World news story
Visas: Temporary Enrolment Location is opened in Dushanbe
From 19 August 2014 residents of Tajikistan have been able to apply for a UK visa in Dushanbe.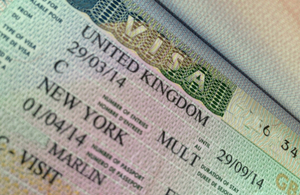 Our commercial partner Teleperformance Ltd will operate a UK Visa Application Centre in Dushanbe on a monthly basis. The Temporary Enrollment Location (TEL) will take place one Tuesday per month at the:
Hyatt Regency Dushanbe
26/1, Ismoili Somoni Prospekt
Dushanbe
Tajikistan 734026

In addition, we are making the following changes to the visa service that we offer. These changes are as follows:
Opening hours: 10am – 2pm one Tuesday per month.

User Pays charges: From August 2014, there will be a charge of £59 to use the Visa Application Centre in Dushanbe. This will be in addition to the visa fee and will be charged at the point of booking the appointment and will cover the cost of providing the application submission facilities in Dushanbe. Your appointment at this Visa Application Centre will not be honoured if this fee is not paid.
UK Visas and Immigration Customers will still be able to apply at the free to use Visa Application Centre in Almaty, which is open 5 days per week.
Published 24 September 2014