World news story
Visas: Temporary Enrolment Location is opened in Astana
From 15 September 2014 residents of Kazakhstan will be able to apply for a UK visa in Astana.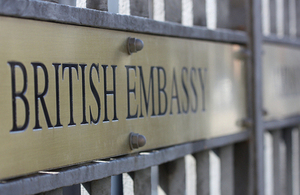 Our commercial partner Teleperformance Ltd will operate a Temporary Enrollment Location (TEL) in Astana three days each week. The TEL will take place at the visa application centre at Moskva Business Centre, Dostyk 18, 5th floor, Astana on Monday, Wednesday and Friday each week.
Opening hours 09.00-15.30 on Mondays, Wednesdays and Fridays. User Pays charges. There will be a charge of £59 to use the Temporary Enrollment Location in Astana. This will be in addition to the visa fee and will be charged at the point of booking the appointment and will cover the cost of providing the application submission facilities in Astana. Your appointment at this Temporary Enrollment Location will not be honoured if this fee is not paid.
Once the UK Visa Application is submitted in Astana the completed applications, which will include all supporting documentation and the customer's passport, will then be forwarded to the Decision Making Centre in Istanbul by commercial courier, where they will be considered by Entry Clearance staff. Decisions will then be returned direct to the customer by courier. Processing target times will remain unchanged and TEL staff will play no part in the decision making process.
UK Visas and Immigration customers will still be able to apply at the free to use Visa Application Centre in Almaty, which is open 5 days per week.
Published 11 September 2014