World news story
Visas for the UK
This was published under the 2010 to 2015 Conservative and Liberal Democrat coalition government
The British Embassy in Quito is not related to any part of the process and we cannot assist you. Please read this UK Border Agency guidance.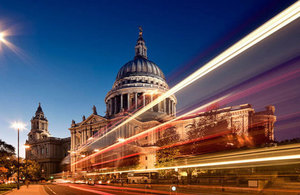 If you want to travel to some Commonwealth countries and British overseas territories, you may be able to apply for the visa you need through the visa application centres worldwide.
THE UK VISA APPLICATION PROCESS
The purpose of this document is to provide some guidance as to the UK visa application process. To start the process go to the following website: http://www.visa4uk.fco.gov.uk (this is the government website for UK visas)
*Once you are at the home page, you will have to follow the various steps to register your details. This is divided into the following sections (so please have the relevant documents and information ready for the process): About you, passport details, contact details, your family members and immigration history. There is also a chance to review your details and then print the application form. *During this process you will have the option to save your information (by pressing on the small red box which you will see on each page). You can come back to this page as and when you want. *Once you have got to the end of this process you will be sent an email (to the email address you provide when you fill in your contact details). This email provides a link to our Commercial Partners website http://www.visainforservices.com. You should click on this link and follow the steps to book your visa appointment (this email also confirms a number of details related to your application such as a unique reference number (GWF), where you need to go to provide your biometrics details, what documents you should take with you). *After you finish lodging your details for the appointment you will be sent an additional email confirming your appointment date and time. This will be at your chosen location (if you are a National from another country, other than Colombia you will need to state that your country of residence is Colombia). In Bogota this will be at the British Embassy, in Medellin and Cali and the biometric clinics, which are operated by our visa services agency. *If you are applying in Bogota you can choose to pay an additional fee for our Priority Service, to have your visa processed quicker (for this service our target time is 48 hours).
This process takes approximately 45 minutes to 1 hour.
If you have any queries about the visa application process, you will have to contact our Commercial Partner. Their contact details are on http://www.visainforservices.com. The visa staff in the British Embassy cannot provide you with any advice on the application process.
Additional websites that may be of use are:
http://www.ukba.homeoffice.gov.uk/countries (click on the country of your choice. When you click on Colombia the page provides some information about the initial part of the visa application process in Spanish)
Attached are some useful documents: "Top Tips" and "Documents to bring to the appointment".
All information provided by automatic response email from InfoVisa.BogotaProtect@fco.gov.uk.
Document information
Published: 18 February 2014