Violence against women must be challenged and opposed
Home Secretary Theresa May explains why she is determined to make violence against women 'utterly unacceptable'.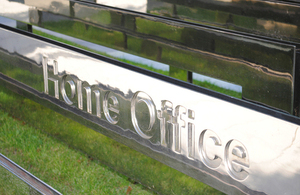 'Violence against women and girls is utterly unacceptable. That may seem to be a statement of the obvious - but unfortunately, the obvious is not accepted by everyone.
'There are people in this country today who think violence against women and girls can be justified, and who do not recognise it for what it is: a shocking, shameful crime.
'Many girls do not recognise that being 'slapped about' by their boyfriends is a form of criminal violence. Many boys seem to think that when a girl says No to some form of sexual activity, she really means Yes. These boys don't recognise that forcing an unwilling girl to have sex is rape.
'Such behaviour can escalate to murder. 88 women were killed by their partners or ex-partners last year. That's more than one woman every week.
Violence Against Women
'Violence against women needs to be challenged and opposed everywhere - whether it occurs  in the home or in the school playground, on the street or in the bedroom.
'I was shocked to discover recently that some teachers in London refuse point-blank to tell their classes that the awful practice of female genital mutilation is a crime. They said it would 'infringe some people's cultural values'.
'Female genital mutilation is not a value of any kind. It is violence against women, pure and simple. It is illegal in Britain, and we should all be determined to ensure that the practice is eradicated. As Home Secretary, and as a woman, I certainly am.
'I am passionately committed to ending violence of all kinds against women - whether it is boys coercing girls, or women being forced into marriage or into prostitution, or women and girls being abused in their homes, or men killing women.
'One critical step is to end the casual toleration that our society shows for violence against women. Last week, you could buy on Amazon T-shirts with slogans such as 'Keep Calm and Hit Her'.
'Such slogans send a totally unacceptable message.
This is Abuse
'We must make it clear that we cannot and will not tolerate any form of violence against women. That is why I have launched a campaign on television and digital media that highlights the abuse of teenage girls: how to recognise it, and what to do about it.
'I have committed £40 million to provide services to victims of domestic and sexual violence. Places where victims can go, be safe, and talk to people who can advise them about how to escape the abuse they are suffering.
Domestic Violence
'The stark fact is that teenage girls are the group most likely to suffer domestic abuse. In the last year, close to one in seven girls aged between 16-19 in our country were victimised. That is why I have extended the definition of domestic violence to include those aged 16-17.
'I hope this will help girls recognise when they are being abused and give them the courage to come forward. It will ensure they are taken seriously and supported when they do.
Clare's Law
'I also want to make it possible for any woman to be able to go to the police and find out if her partner has a violent past. 'Clare's Law' is named after Clare Wood, who was murdered by her partner, a man with a violent past who Clare would have avoided had she known.
'It allows the police to divulge that information. It is being piloted by the police at the moment.  Last week in Nottingham I heard how women have been using it to avoid violent relationships.
'We can change attitudes to the abuse of women, just as attitudes to racism have been changed. For instance, 20 years ago, black footballers were subject to a level of abuse that is now utterly unacceptable. We can make the abuse of women and girls utterly unacceptable in Britain  - and in the next few years, I shall do everything in my power to ensure that we do.'