News story
Violence against women: a global day of action
Home Secretary condemns violence against women and girls on day of global action to mark One Billion Rising campaign this Valentine's Day.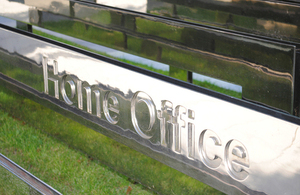 She lent her support as the 14 February event fell on the same day as the launch of the government's latest This Is Abuse advert launch. This Is Abuse is aimed at helping young people spot the signs of abusive relationship.
One Billion Rising is an organisation devoted to tackling violence against women and girls across the globe.
Valentine's Day
Home Secretary Theresa May said: 'We all need to work together to end violence against women and girls. I welcome the One Billion Rising campaign in helping to raise awareness and show victims they are not alone. Today we are launching the 2013 Teenage Relationship Abuse campaign to help prevent young people from becoming victims of domestic abuse
'The needs of victims are at the heart of this government's action to tackle this terrible abuse. There is more to do but we have made real progress in the last year by introducing two new offences of stalking, launching the pilot of Clare's law and announcing our intention to criminalise forced marriage.'
Prime Minister
Prime Minister David Cameron has also lent his support to the campaign and pledged that the government will continue working to tackle all forms of violence against woman and girls.
Mr Cameron said: 'I want to see an end to violence against women and girls in all its forms. I'm proud to add my voice to all those who stand up to oppose it.
 
'Too often these horrific crimes have gone unpunished. We want this to change and that is why we have criminalised forced marriage, widened the definition of domestic violence and made stalking illegal.'
The This Is Abuse campaign first launched in 2010, and a series of TV adverts since then have highlighted issues of controlling behaviour and rape in teenage relationships. The campaign relaunches on Valentine's Day. The Home Office has also teamed up with MTV to develop three new adverts to run alongside the original material.
The powerful campaign aims to raise awareness among teens of what constitutes abuse and violence in their relationships, to try and change attitudes among girls and boys aged 13-18 and prevent domestic violence. More information is available at the campaign website
Published 14 February 2013