Press release
Vince Cable waxes lyrical about Barbour, cars and skills in the North East
Barbour, Gestamp Tallent Limited and UK Steel Enterprise receive Regional Growth Fund awards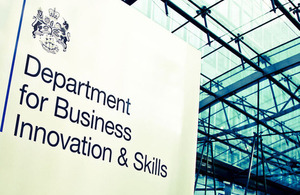 The Regional Growth Fund continues to help revive British manufacturing as three further awards are announced as part of a North East tour by Vince Cable today.
Iconic British clothing manufacturer Barbour, Gestamp Tallent Limited and UK Steel Enterprise are the latest projects to have awards announced having completed due diligence.
The three projects represent £5.5 million in Regional Growth Fund investment, which will create over 700 new jobs and safeguard a further 450 while stimulating private sector investment in the North East.
After the launch of the UKTI's Exporting is GREAT campaign at St James Park, Vince Cable today paid a visit to J Barbour & Sons in South Shields to announce their Regional Growth Fund award and see how the £549,000 investment will be used to expand capacity and export to new markets.
As well as seeing the manufacture of the world-famous Barbour wax jackets, the Business Secretary met students at the Barbour Academy - a joint venture with Hartlepool College which offers apprenticeships and bespoke training for people considering a career in the textile industry.
During the Barbour visit Business Secretary Vince Cable said:
The Regional Growth Fund is playing a pivotal role in supporting British manufacturing and helping to rebalance the economy by creating jobs and stimulating private investment. This is no less so than in the North East where government support is giving firms and SMEs the confidence to invest, hire and grow.
Barbour clearly has the right approach to skills and their Academy with Hartlepool College will ensure that they retain the diverse range of practical skills they need to stay ahead of the competition. Their Regional Growth Fund award will create over 130 jobs and help another British success story to meet demand for new growth markets abroad.
Brenda Readman-Bell, Group Finance Director, J Barbour & Sons Ltd said:
We are delighted to welcome Vince Cable to Barbour and to show him how some of the funds from our Regional Growth Fund grant will be used. We support long term employment and commercial longevity in the North East and this grant will enable us to extend our current warehouse and factory facilities and secure additional employment opportunities.
Barbour believes that the Regional Growth Fund support for British manufacturing and companies in the North East helps to raise the profile of Barbour as an internationally recognised brand built on quality and heritage and enables us to tell the market place that quality and service exists in the North East.
Gestamp Tallent Limited in Newton Aycliffe also hosted Vince Cable on a tour of their new state-of-the-art factory. This develops and manufactures chassis structural products for the automotive industry with clients including Nissan, Volvo, Ford, Jaguar, Honda and VW.
A Regional Growth Fund award of £3.75 million will enable the company to procure robot welding assembly lines to increase their capacity for chassis products for the UK and Europe. This will create over 320 new jobs and safeguard a similar number.
Speaking at the Newton Aycliffe factory Vince Cable said:
Gestamp Tallent are an integral part of the automotive supply chain, not just for the North East but for the UK and Europe. It is one of the reasons why the North East has a strong reputation for quality engineering and manufacturing – a reputation we want the area to maintain.
Through the Regional Growth Fund, and more widely through our long term industrial strategy, government can give business the clarity and confidence to invest for the long term. That creates growth, and jobs for people here in the North East and all across the country.
Brian Francis, CEO of Gestamp Tallent Limited said:
The Company welcomes any financial support from central government. The RGF grant will assist the Company in respect of both competitiveness and procurement of the capital equipment required to manufacture the new components. This investment will both create and safeguard jobs over the coming years.
The third Regional Growth Fund award of £1.2 million was announced for UK Steel Enterprise (UKSE). The funding will help the organisation provide loan and equity funding for SMEs and businesses in steel areas across England. Funding could be for a variety of uses, such as new premises or equipment.
Over the 35 years that UKSE has been providing funding for business, it has helped create over 70,000 new jobs.
Simon Hamilton, Regional Manager for UKSE in the North of England said:
The RGF award allows us to fund projects that otherwise wouldn't be able to go ahead, so it is giving a real boost to businesses alongside the support that UKSE traditionally provides.
Notes to editors
1.The Regional Growth Fund (RGF) is a £2.6 billion fund operating across England from 2011 to 2016. It supports projects and programmes that lever private sector investment to create economic growth and sustainable employment.
2.The fourth round of RGF closed in March. Ministers will announce the bids selected to receive a share of the £350 million in the summer.
3.For more information please visit www.gov.uk/understanding-the-regional-growth-fund
4.The government's economic policy objective is to achieve 'strong, sustainable and balanced growth that is more evenly shared across the country and between industries'. It set four ambitions in the 'Plan for Growth' (PDF 1.7MB), published at Budget 2011:
to create the most competitive tax system in the G20
to make the UK the best place in Europe to start, finance and grow a business
to encourage investment and exports as a route to a more balanced economy
to create a more educated workforce that is the most flexible in Europe.
Work is underway across government to achieve these ambitions, including progress on more than 250 measures as part of the Growth Review. Developing an Industrial Strategy gives new impetus to this work by providing businesses, investors and the public with more clarity about the long-term direction in which the government wants the economy to travel.
Published 13 May 2013