Press release
Vince Cable visits small businesses on the Somerset Levels
One year on from the severe floods that hit the Somerset Levels, Business Secretary Vince Cable is visiting small businesses in the area.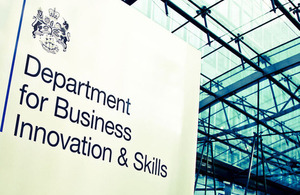 One year on from the severe floods that hit the Somerset Levels, Business Secretary Vince Cable is visiting small businesses that were affected in the area today (15 January 2015). John Allan, National Chairman of the Federation of Small Businesses (FSB), will accompany Vince Cable as he tours Shakspeare Glass in Langport and Somerset Cider Brandy in Martock, both of which suffered damage from the rising floodwaters.
Business Secretary Vince Cable said:
This time last year, flooding on the Somerset Levels damaged many small firms that had taken many years of hard work to build up.

While we cannot control the weather, we have set out a £2.3 billion long-term investment in flood defences and made over £1 million available to support flood-hit businesses in Somerset. These small businesses are vital for a growing and balanced economy, and creating jobs for local communities – it is only right that we do all we can to support them.
The Business Secretary will attend a roundtable event with 20 local businesses and FSB representatives at Great Bow Wharf, a social enterprise centre in Langport.
At Shakspeare Glass, a small artisanal glassmaker, he will meet the company's founder, Will Shakspeare, who received a government Business Support Scheme grant to develop and implement a business recovery plan after the floods. These grants allow businesses to claim the costs of immediate clean-up, new materials, hiring of equipment and temporary accommodation. Shakspeare Glass currently has 2 galleries in Somerset and produces a wholesale range of glassware for 75 retail outlets across the UK.
Vince Cable will then travel to Martock to visit the Somerset Cider Brandy Company, which is based on a farm that has been pressing cider for 150 years and distilling it to make Somerset Cider Brandy since 1989. Somerset Cider Brandy has Protected Geographical Indication status, which guarantees its authenticity and origin, and protects against imitation throughout the European Union. The company is a South West success story, employing up to 20 people at any one time and exporting its products to the EU and the United States.
Finally, Vince Cable will visit Yeovil Town Football Club, where he will give a speech to local FSB members. The speech will focus on the opportunities for small businesses in Somerset to work on the Hinkley nuclear project and the support available through the Plymouth & South West Peninsula City Deal, which is creating over 9,000 jobs and improving business support.
John Allan, FSB National Chairman, said:
Last year was the wettest winter on record and thousands of UK small businesses were affected by the direct and indirect consequences of flooding and storm damage. With the constant threat of extreme weather in the UK, many small business need to prepare and adapt to ensure they can continue to stay open whatever the conditions.

Having Vince Cable visit our members to see how they have coped with some very difficult conditions will be welcomed. Dr Cable needs to understand the challenges facing small firms, and to realise they need the full support of government before, during and after these events.
Patricia Marks, FSB Chair of the Somerset and Wiltshire Region, said:
We are delighted that Vince Cable has been able to join us today. It is an opportunity for the Federation of Small Businesses to showcase the many and varied businesses in Somerset, some of who were adversely affected by the flooding a year ago. But, Somerset folk are a hardy lot, with a 'can do' attitude! The Business Secretary cannot fail to be impressed by the entrepreneurial spirit, the willingness to diversify and maximise the bounty of the county to stimulate the local economy as a whole.
Notes to editors
In the National Infrastructure Plan 2014, a £2.3 billion investment in flood defences was set out.
The government has committed to spend £15.5 million in Somerset on flood defences over the next 6 years benefitting 7,000 properties, including £4.2 million on the Somerset Levels and Moors.
The Business Support Scheme is available to support small businesses, which were affected by the impacts of flooding, to develop and implement business recovery plans.
Information on the flood recovery schemes and support available for homeowners and businesses is available.
The Hinkley Point C nuclear power station will generate a stable source of clean power to nearly 6 million homes once it is up and running, and will provide 25,000 jobs during construction. UK companies could benefit from getting more than 50% of the work, and thousands of jobs are expected to go to local people.
Published 15 January 2015