News story
Vince Cable visits North East to announce Low Carbon Investment
Dr Cable will spend time at Corus, where he will announce the latest funding package worth £4.6 million from the Tees Valley Industrial Programme…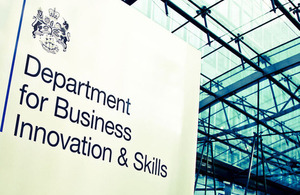 Dr Cable will spend time at Corus, where he will announce the latest funding package worth £4.6 million from the Tees Valley Industrial Programme (TVIP) for 14 projects in the region. Of this, £1.3 million will help develop Carbon Capture and Storage (CCS) in the North East.
This package is all part of the Government's ongoing support for Teesside. The Government is committed to rebalancing the UK economy by supporting the sectors that can sustain widespread growth. To meet this aim in the North East it has already invested around £30 million of the £60 million allocated to TVIP. The investment contracted so far will result in the creation of over 1,700 full time jobs and safeguard a further 1,200 jobs. Overall the TVIP programme should see 3,000 new jobs created and sustain over 10,000 jobs in the longer term.
Business Secretary Vince Cable said:
"Continued investment in the North East is extremely important as we rebalance our regional economies, but this needs to be the right kind of support. It's vital that any grants will garner real benefits for businesses and communities by growing local economies and skills.
"That's why I am delighted to announce this funding, especially for Carbon Capture and Storage, which the North East is well placed to capitalise on. These projects will create a wealth of opportunities for local businesses and create new highly-skilled jobs."
During his visit to Corus, Vince Cable took the opportunity to welcome the news today that the company is extending its support for a skills and training scheme for the workers still at risk of redundancy from Teesside Cast Products. The Government has also agreed to provide £300,000 to support this further training as part of a package under TVIP to help equip employees with new skills.
After visiting Corus, Dr Cable will spend time at the National Renewable Energy Centre (Narec) in Blyth where he will observe the construction of the new £15 million marine test rig. The facility will provide a purpose built structure that utilises the marine testing docks on the Narec site, and support research and development into marine low carbon technologies. Based around the existing dry docks, there will be no comparable open-access R&D facilities anywhere else in the world.
Dr Cable added:
"It's vital that British-based companies are supported to take advantage of new opportunities in the renewables sector and the testing facilities here at Narec are key to encouraging more investment in the UK.
"The UK has a strong presence in these markets. Clipper is building a factory in Newcastle for the manufacture of their prototype wind turbine blades, Mitsubishi is building an offshore wind R&D centre here in the UK, and there are hundreds of UK grown firms supplying, amongst other things, cables, towers, and foundations and testing marine energy devices. All of this means jobs and growth for economies throughout the country."
Vince Cable also welcomed that Narec has been included in a list of four companies awarded offshore wind demonstration sites by the Crown Estate today. The project at Blyth is for a 100MW grid-connected site to test and demonstrate up to 20 next generation offshore wind turbines and associated infrastructure.
During his time in the North East Dr Cable will also be meeting local business people from the Northern Business Forum and members from the North East Chambers of Commerce at Teesside University. They will discuss how the region can achieve long-term sustainable economic growth.
Notes to editors
The new CCS funding is part of a £4.6 million funding package from TVIP for 14 projects in the region. Further details of these projects can be found at www.onenortheast.co.uk.

As part of his visit to Corus Dr Cable will see the Teesside Beam Mill, which produces specialist steel beams.

To underline the Government's commitment to apprenticeships, he will also meet with apprentices from the Tees Valley Apprenticeships Programme which is funded by TVIP. One of the first things Vince Cable announced on taking office was £150 million to fund up to 50,000 more apprentices.

The marine test rig project has been made possible by £4.4 million of European Regional Development Fund (ERDF) funding, which complements £10 million funding from Department for Business, Innovation and Skills and Department of Energy and Climate Change.

BIS' online newsroom contains the latest press notices, speeches, as well as video and images for download. It also features an up to date list of BIS press office contacts. See [http://www.bis.gov.uk/newsroom](http://www.bis.gov.uk/newsroom) for more information.
Notes to Editors
Contact Information
Name BIS Press Office Job Title
Division COI Phone
Fax
Mobile
Email NDS.BIS@coi.gsi.gov.uk
Published 5 August 2010