Press release
Vince Cable seeks disciplinary actions for Comet administrators
Business Secretary Vince Cable today announced that the Insolvency Service has referred the administrators of failed high street retailer Comet to their regulatory body.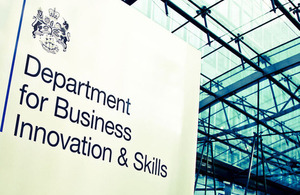 Business Secretary Vince Cable today announced that the Insolvency Service has referred the administrators of failed high street retailer Comet to their regulatory body for consideration of whether disciplinary action is appropriate on two grounds following an 18 month-investigation.
Christopher Farrington, Nicholas Edwards and Neville Kahn, insolvency practitioners (IPs) at Deloitte, were referred to the Institute of Chartered Accountants in England and Wales (ICAEW).
The referral relates to a potential conflict of interest when the three IPs, who had previously advised the company and connected parties, accepted their appointment as administrators of Comet following its collapse in 2012.
In addition, an Employment Tribunal found that employees had not been consulted on the potential for redundancies as legally required, leading to a potential compensation package of up to £26 million which will be borne by the taxpayer.
Business Secretary Vince Cable said:
The taxpayer now faces a multi-million pound compensation bill as result of the failure to consult employees. There can be no excuse for failing to comply with the law which is very clear in this area. It is vital that the regulator establishes why this happened and whether disciplinary action against the administrators is appropriate.

There are also important issues of possible conflicts of interest which need to be fully considered.

Cases such as these reinforce the need for a stronger insolvency regulation regime which will give us new powers to ensure regulators take firm action where abuse is found. The Bill I am currently taking through parliament will ensure these changes to current law are made.
The ICAEW has a number of sanctions at its disposal where it finds sufficient misconduct, ranging from a warning, reprimand or fine to licence withdrawal.
Notes to editors
The Insolvency Service announced the start of a Section 447 investigation into the circumstances surrounding the insolvency of Comet in 2012. This investigation is still continuing.
The investigation is a fact finding investigation into the company and the circumstances surrounding its insolvency.
Comet went into administration in 2012 with approximately 6,000 staff in 236 stores. There were insufficient funds for the administrators to make redundancy payments) which has been met by the government.
The Insolvency Service's Redundancy Payment Scheme has paid £18.4 million in redundancy fees to 4,838 ex-employees of Comet.
In addition, in June the Employment Tribunal made a Protective Award of between 70 and 90 days because of inadequate consultation with employees prior to them made redundant as required by law. This has a potential cost of £26 million to be paid from the National Insurance Fund.
Proposals that will support a stronger insolvency and corporate governance regime were announced in The Small Business, Enterprise and Employment Bill, now going through Parliament.
The Insolvency Service administers the insolvency regime, investigating all compulsory liquidations and individual insolvencies (bankruptcies) through the Official Receiver to establish why they became insolvent. It may also use powers under the Companies Act 1985 to conduct confidential fact-finding investigations into the activities of live limited companies in the UK.
In addition, the agency authorises and regulates the insolvency profession, deals with disqualification of directors in corporate failures, assesses and pays statutory entitlement to redundancy payments when an employer cannot or will not pay employees, provides banking and investment services for bankruptcy and liquidation estate funds and advises ministers and other government departments on insolvency law and practice.
Further information about the work of the Insolvency Service, and how to complain about financial misconduct, is available on our website. Media enquiries should be directed to: Kathryn Montague, The Insolvency Service Press Office, Tel: 020 7674 6910.
You can now subscribe to get e-mail alerts from the Insolvency Service. You may wish to subscribe to receive updates for the whole site or any of the key areas, i.e. about us, news, personal, companies, redundancy, profession, publications, consultations, contact us etc. These areas can be expanded if required. To subscribe, go to the site and you will see a button to "sign up for email alerts and newsletters", or click on the link below https://public.govdelivery.com/accounts/UKIS/subscriber/new
Published 25 July 2014