News story
Vince Cable launches Make it in Great Britain Exhibition
The exhibition is the culmination of the Government's Make it in Great Britain campaign and will feature a mix of displays from 39 businesses…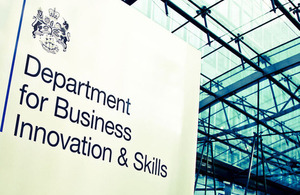 The exhibition is the culmination of the Government's Make it in Great Britain campaign and will feature a mix of displays from 39 businesses of all sizes including iconic names like McLaren, Mars, BAE and Rolls Royce. The campaign was launched last year to change outdated perceptions of manufacturing, including dispelling the myth that the UK 'doesn't make anything anymore'.
Business Secretary Vince Cable said:
"Generating £137bn each year and employing 2.5 million people, manufacturing is a vital part of the UK's economy. Perceptions of the industry are outdated and need to change if we are going to attract the talent needed to support manufacturing in the long term. Both Government and industry have a role to play, which is why we launched the Make it in Great Britain campaign and are hosting this exhibition."
The Business Secretary joined Business Minister Mark Prisk to launch the Make it in Great Britain Exhibition, which is taking place for six weeks during the Olympic and Paralympic Games.
Business Minister Mark Prisk said:
"I'm delighted to launch this exhibition, as it will showcase some of the exciting great innovations of today. We have a mixture of iconic names, but also small and medium sized businesses like Elfab and Ultra Global that are leaders in their field, and have come together to show the public what modern manufacturing is all about.
"There is a range of rewarding career opportunities available, requiring advanced skills and expertise. I would encourage people to come along to the exhibition and see first hand what manufacturing can offer them."
Ian Blatchford, Director of the Science Museum said:
"The Science Museum and its world leading collections demonstrate some of the greatest engineering achievements of the last 200 years, and the Make it in Great Britain exhibition is no exception, highlighting the exciting places that UK manufacturing could take us in the next few years and beyond.
"Science, technology and engineering have all been used to solve problems throughout history - from light-bulbs and televisions to inventions such as the Stephenson's Rocket locomotive on show at the museum, and they've all gone on to contribute to British manufacturing. We're hoping that as many people as possible will come and experience some of the most exciting innovations from around the UK this summer at the Science Museum."
Showcasing alongside the businesses are the finalists of the Make it in Great Britain Challenge - a competition to seek out the next big pre-market products or ideas from across the UK.
These include a new technology which could offer relief to tinnitus sufferers and an eco-friendly alternative to everyday cement that could reduce CO2 emissions by up to 90 per cent.
As part of the Challenge, all finalists of the Make it…Breakthrough category were put to a public vote ahead of the exhibition for the chance to be crowned the 'People's Choice'.
The winner has today been named as Bedflex, which is a device designed by a group of BAE Systems apprentices to assist the recovery of amputees and critical care patients by allowing them to take part in bed-based exercises.
Throughout the exhibition the public will vote on what finalists they want to win across all five categories. The winners from each category will go on display together during the final week of the exhibition. An overall competition winner will then be chosen.
Entry is free to the Make it in Great Britain Exhibition. It will be on display until 09 September 2012.
**Notes to editors:
**1. Make it in Great Britain is a campaign that will challenge outdated perceptions and transform the image of modern manufacturing.
The Business Secretary and Mark Prisk launched the Make it in Great Britain campaign at a stakeholder event in Central London attended by 150 of Britain's manufacturers and trade associations in November 2011.

The Make it in Great Britain exhibition will be open to the public from Tuesday 24 July to Sunday 9 September, and is being held at the Science Museum, Exhibition Rd, South Kensington, SW7 2DD.

Images of today's event will be available on the BIS Flickr page

Exhibitors include:
Airbus
A.J Wells & Sons
Amber Composites
Andor Technology Ltd
Axon Automotive Ltd
BAE Systems
Bombardier
Ceravision
Coca-Cola
e2v Technologies
Elfab
Evac Chair
FT Technologies
GKN
Goodrich Actuation Systems
Gripple
Intelligent Energy
Jaguar Land Rover
Johnson Matthey
Mars
McLaren
Messier-Dowty-Ltd
Mettler Toledo
Naim Audio
Oclaro
Optos
POD Point
Raytheon UK
Rolls-Royce
Siemens
Stromatolite
Sunseeker
The Greenroof Tile Company
The Royal Mint
Topper International
Ultra Global
Westwind Air Bearings
Xaar
Yamazaki
For more information about the Make it in Great Britain campaign and Make it in Great Britain Challenge finalists, go to http://bis.gov.uk/makeitingreatbritain

The Government's economic policy objective is to achieve 'strong, sustainable and balanced growth that is more evenly shared across the country and between industries.' It set four ambitions in the 'Plan for Growth' (PDF 1.7MB), published at Budget 2011:
To create the most competitive tax system in the G20

To make the UK the best place in Europe to start, finance and grow a business

To encourage investment and exports as a route to a more balanced economy

To create a more educated workforce that is the most flexible in Europe.
Work is underway across Government to achieve these ambitions, including progress on more than 250 measures as part of the Growth Review. Developing an Industrial Strategy gives new impetus to this work by providing businesses, investors and the public with more clarity about the long-term direction in which the Government wants the economy to travel.
BIS's online newsroom contains the latest press notices and speeches, as well as video and images for download. It also features an up to date list of BIS press office contacts. See [http://www.bis.gov.uk/newsroom](http://www.bis.gov.uk/newsroom) for more information.
Notes to Editors
Contact Information
Name BIS Press Office Job Title
Division Department for Business, Innovation & Skills Phone
Fax
Mobile
Email bispress.releases@bis.gsi.gov.uk
Name Andy Aston Job Title
Division Department for Business, Innovation & Skills Phone 0207 215 6963 Fax
Mobile
Published 24 July 2012