Vince Cable heads to Moscow
Vince Cable leads the largest ever business delegation to strengthen ties between the UK and Russia and to promote trade.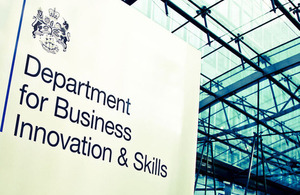 Business Secretary Vince Cable is on a three-day visit to Moscow to strengthen ties between the UK and Russia and to promote trade, which is worth billions to the UK's economy every year.
He takes with him the largest ever UK business delegation, comprising 37 businesses that have enjoyed success in Russia in sectors ranging from pharmaceuticals to finance, and from energy to food and drink. Among the delegation are companies such as Rolls Royce, British Airways, Shell, BP and Barclays.
Over six hundred British businesses now have a base in Russia including many household names such as Marks & Spencer and Costa Coffee.
UK-Russia factfile
UK-Russia trade is currently worth £6 billion a year. UK exports to Russia in the year to August were £1.9 billion, an increase of 36 per cent on the previous year.
Nearly 600 British companies are active in Russia, and over 2,000 UK SMEs showed an interest in doing business in Russia in 2009.
The UK is one of the largest foreign direct investors in Russia.
Russian companies account for 13 per cent of all international IPOs on the London Stock Exchange. Russian companies favour the City of London for capital, with over $30 billion raised in Russian IPOs since 2005 and a possible further $10 billion in 2010.
Russia's Mail.ru Group successfully floated on the London Stock Exchange this month. Mail.ru Group's sites reach approximately 70 per cent of Russian Internet users on a monthly basis. Russia is today Europe's second largest Internet market measured by number of users.
English law is one of the UK's most important exports to Russia. UK law firms in Moscow are amongst the largest and most successful in the world.
Oil and gas are responsible for around a quarter of Russia's GDP, half of federal budget revenues and two thirds of exports. Russia in 2009 became the world's largest producer of hydrocarbons. Russia is committed to improving its energy efficiency by 30 per cent by 2020.
TNK-BP, of which BP has a 50 per cebt stake, is Russia's third biggest oil producer. As at February 2009, Shell has a 27.5 per cent stake in the Sakhalin II project, Russia's first LNG (Liquefied Natural Gas) plant, costing $22 billion.
Pilkington's biggest factory outside the UK is in Russia. Other major investors include blue chip companies like Cadbury, Astra Zeneca, Kingfisher (B&Q), Marks and Spencer and Monsoon.
Rusnano, the state company responsible for developing Russia's nanotech industries, is planning to spend $8.5 billion on nanotechnology by 2015. Following a visit to the UK this year, Rusnano has invested in a Cambridge-based nanotechnology company Plastic Logic.
The UK and Russia have entered into a Host2Host agreement to exchange information and support on the Economic Legacy around major sporting events such as the forthcoming London 2012 Olympic Games and Sochi's 2014 Winter Olympic Games.
The 2014 Sochi Olympic Games are expected to cost $35 billion, with the value of the opportunity to the UK estimated to be over £18 billion. UK companies have already won, or are bidding for contracts in sectors covering construction and event delivery to catering and hospitality.
Britain's revenues from Russian tourists account for £500 million a year (source: Visit Britain).
Russian culture remains of great interest in the UK - a new exhibition at the London V&A museum of Diaghilev's Ballets Russes has already attracted more than 50,000 visitors, since September, and the annual Maslenitsa festival in spring remains popular.
Vince Cable said:
"The UK is consistently one of the biggest foreign investors into Russia, and proud to be so.
"We have goods and expertise that are in high demand, and UK companies are increasingly seeking out further opportunities, especially in engineering, construction and financial services.
"So far this year, we have exported nearly £2 billion of goods and services to Russia and I hope that, through delegations such as this, trade relations will continue to grow between our two countries."
Links
Published 25 November 2010