Press release
Vince Cable announces £40 million to support cutting-edge research on visit to Worksop and Lincoln
Vince Cable announces £40 million of funding to support research in the industrial biotechnology sector.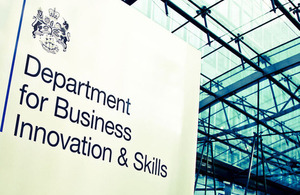 Business Secretary Vince Cable will announce £40 million of funding to support research in the industrial biotechnology sector and see first-hand how the Regional Growth Fund is supporting organisations across the country on a visit to Worksop and Lincoln today (27 November 2014).
The Business Secretary will set out support to help innovative research projects become commercially viable products as well as announcing that the University of Lincoln has been successful in securing more than £2 million from the Regional Growth Fund to support local businesses and create or secure 400 skilled jobs across England. The visit will also allow Vince Cable to see how the region is embracing sustainable manufacturing, including how old cars are being transformed in to coffee machines and how rubbish is being used to power local houses.
The multi-million pound fund has been pledged by Biotechnology and Biological Sciences Research Council, Engineering and Physical Sciences Research Council and Innovate UK and will support collaboration between UK researchers and the emergent industrial biotechnology sector.
With the support of the Industrial Biotechnology Catalyst, British researchers have already helped develop new technologies in everything from plastics produced from plant residues to allergy free latex. The new funding will help companies bring their innovations to market and cement the UK's position as a world leader in biotechnology sector.
To mark the announcement, Vince Cable will visit MBA Polymers, a world leader in recycling post-consumer plastics from old computers, electronics, appliances and cars that would otherwise be destined for landfill. The company uses innovative separation technology to turn waste into plastic that can be used in new products including vacuum cleaners, coffee machines and printers.
Business Secretary Vince Cable said:
Whether it's creating sustainable plastics or allergy-free products this new funding will help our talented biotech innovators continue to bring renewable, sustainable ideas to market. Government is committed to supporting this emerging sector and the additional £40 million will help cement the UK's position as a world leader in this sector.
It will then be on to Brunton Shaw UK, a successful manufacturer of high tech steel wire ropes which are used in elevators, cranes and across the oil and gas industries. The company recently benefitted from a grant of £1.3 million through the Regional Growth Fund to develop new production and research and development facilities. The funding formed part of an overall investment by Brunton Shaw of £18 million that aims to create and retain 120 jobs.
The Business Secretary will then celebrate the official opening of a new waste to energy plant in North Hykeham, near Lincoln that will transform rubbish that cannot be recycled or composted in to energy to power homes in the local area. The new £125 million facility will treat up to 150,000 tonnes of waste a year and will generate enough electricity to power 15,000 homes, as well as supporting 33 new jobs.
The Business Secretary will finish the day by looking to the future at the University of Lincoln's School of Engineering. During the visit the Business Secretary will announce that the University has been awarded £2 million following a successful bid to the government's Regional Growth Fund. The Grow on Growth programme, that aims to raise £3.2 million in private investment and create or safeguard 400 skilled, sustainable jobs, will support businesses exiting incubators located in 7 areas across England.
The School of Engineering works in collaboration with Siemens plc to ensure graduates are 'industry-ready' and equipped with the right skills for employment. As part of the initiative, Siemens has made a multi-million pound commitment to supporting the school and students are able to train alongside Siemens employees at the company's Lincoln base.
Notes to editors
The £40 million of funding will be available through the Industrial Biotechnology Catalyst, launched in January 2014 to provide funds to support application-focused, integrated research projects involving collaborations between the academic and business communities, or cross-disciplinary academic collaborations.
The next round of funding for research projects in industrial biotechnology will be open for applications from 11 December 2014 at InnovateUK
The £2.1 million awarded from Round 5 of the government's Regional Growth Fund will support the Grow on Growth Fund, delivered by the University of Lincoln.
The fund has been established to provide grant funding to micro, small and medium-sized enterprises to enhance their 'grow-on' from business incubation environments.
The fund will be open to businesses located and operating from business incubation environments within 7 identified areas of England – Lincolnshire, The Black Country, Cornwall and Isles of Scilly, Sheffield City, Tees Valley, Tyne & Wear, and Stoke & Staffordshire.
Individual grant investment will range from a minimum of £20,000 to a maximum of £100,000 where funds awarded can be used flexibly for: capital investment in land, buildings and refurbishment; plant, machinery and equipment; IT and new technology; staff recruitment and training as well as research and development.
Published 27 November 2014