News story
Villiers welcomes Arlene Foster's appointment as First Minister
Secretary of State Theresa Villiers welcomes the appointment of Arlene Foster as Northern Ireland First Minister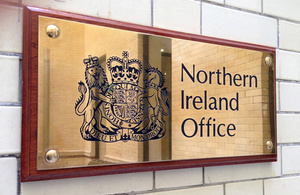 Secretary of State for Northern Ireland the Rt Hon Theresa Villiers MP said:
I would like to extend my warmest congratulations to Arlene Foster on her appointment today as First Minister.

Arlene takes over at a crucial time for Northern Ireland. The economy is recovering with more people in work than in 2010. But there is more to do. The full implementation of the Fresh Start and Stormont House agreements is vital to build a brighter, more secure future for Northern Ireland. We must also find a way forward together to address the legacy of Northern Ireland's past.

There will undoubtedly be challenges ahead in 2016 but at the beginning of a new year I am looking forward to working with Arlene along with all Northern Ireland's political leaders and the wider community to help build a society where politics works, the economy grows and society is stronger and more united.
Published 11 January 2016