News story
Villiers visits set of Game of Thrones in Belfast's Titanic Quarter
Rt Hon Theresa Villiers MP, Secretary of State for Northern Ireland, visited the set of Game of Thrones in Belfast 's Titanic Quarter.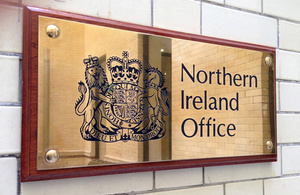 During discussions with NI Screen chairman, Rick Hill, chief executive Richard Williams, and HBO executive producer Frank Doelger, she heard how Northern Ireland is gaining a world renowned reputation as a desirable place for TV and film location.
The Secretary of State said: "I was delighted to have the opportunity to visit the set, it is hugely impressive. Once again Northern Ireland is proving to the world that they can compete with the best and provide a major hub for the creative media sector.
"The special tax reliefs announced by the Chancellor in the Budget, which are due to come into effect in 2013, will help the creative industries sector in Northern Ireland even further. This is added evidence of this Government's commitment to ensuring Northern Ireland can compete in the global marketplace. This is a government that's on the side of business and entrepreneurs in Northern Ireland."
Published 11 October 2012