News story
Villiers - there is a willingness to make progress
Secretary of State provides a short summary of today's cross party talks and looks ahead to tomorrow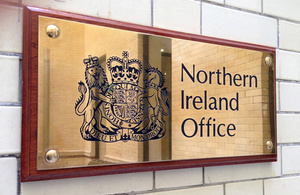 Ms Villiers commented:
The NI parties carried out a thorough consideration of some key elements of the Stormont House Agreement designed to make devolution work better.
We also continued our detailed discussion of finance and welfare issues including reform of the public sector to release resources for frontline public services. The differences between the parties are still very significant on these issues but I do sense a willingness to make progress.
Tomorrow, we focus on the impact of paramilitary activity and legacy issues such as the new Stormont House Agreement institutions to help address the concerns of victims and survivors.
Published 23 September 2015