News story
Villiers statement on anniversary of Dublin Monaghan atrocities
As the families of those killed in the Dublin and Monaghan bombings commemorate 40th Anniversary of the atrocities, Rt Hon Theresa Villiers MP commented: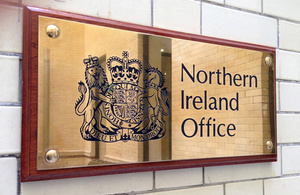 The Dublin-Monaghan bombings were horrific atrocities. I offer my sincere sympathy to the families who lost loved ones as a result of these despicable acts and to the survivors of the bombings who carry mental and physical scars to this day. The passage of time does not lessen the pain and loss for those who lost loved ones to terrorism during the Troubles.
There has been much investigation into the terrible events of forty years ago. The previous government cooperated fully with the Barron and McEntee inquiries held in the Republic of Ireland, and went to great lengths to provide what information it could. Since May 2010 both my predecessor and I have discussed this issue several times with counterparts in the Irish Government and I continue to do so.
Published 17 May 2014