News story
Villiers: shocked and saddened by evil attacks in Paris
The Secretary of State and members of the Northern Ireland Assembly together marked the europe-wide minute's silence in honour of victims of the Paris attacks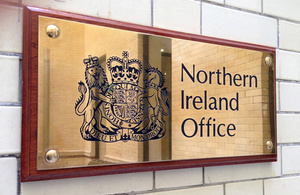 Speaking after the event, Ms Villiers said:
Like everyone I am deeply shocked and saddened by the terrible and evil attacks in Paris. My profound and heartfelt condolences go out all those who suffered, to their families and to the French people.
The terrorists who carried out these attacks should be in no doubt that democratic values will always prevail and we will never yield in defence of those values. Today we stand shoulder to shoulder with the people of France. Their grief is our grief.
The Secretary of State also signed the book of condolence at Belfast City Hall on behalf of Her Majesty's Government.
Published 16 November 2015