News story
Villiers responds to High Court Judgement on Downey
Following the High Court Judgement on the Downey Case, the NI Secretary of State, Rt Hon Theresa Villiers MP commented: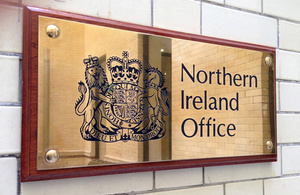 My first thoughts are with the families and friends of the 11 soldiers murdered on the 20th July 1982 in the Hyde Park and Regent's Park bombings. I know that the events of the past few months will have reopened old wounds, and recalled painful memories. The Hyde Park bombing was a ruthless terrorist attack on members of our armed forces who were simply going about their duties.
Mr Downey was part of an administrative scheme for dealing with so-called "on-the-runs" which was set up by the previous Government. The current government reviewed the scheme and decided that any future requests should be referred to the devolved authorities in Northern Ireland, with the Northern Ireland Office dealing only with pending cases for which requests had been received prior to the general election.
The Government is looking carefully at the judgment of the court, and we are working with the police to identify whether there are other cases similar to that of Mr Downey. It is right that time is taken to consider the full implications of this judgment. The PSNI will wish to reflect on lessons learned from this case and the circumstances that led to the serious error which occurred.
This Government does not support amnesties for people wanted by the police in connection with terrorist offences. We believe in upholding the rule of law. That is why both the Coalition parties strongly opposed the legislation introduced by the Labour Government in 2005 which would have introduced what was effectively an amnesty for so-called "on-the-runs.
The Government is also clear that terrorist atrocities such as those committed at Hyde Park and Regent's Park never had any justification. Those responsible were unable to see that a path of violence would never succeed, and that the status of Northern Ireland will only ever be determined through democracy and consent. It is, though, also important to recognise how far we have come since this despicable act of terrorism over thirty years ago. Only by working together can the community in Northern Ireland achieve a more peaceful, stable and prosperous future.
Published 25 February 2014