Villiers represents UK at British-Irish Council summit
NI Secretary of State, Theresa Villiers attends British-Irish Council summit in Jersey which focused on the current economic situation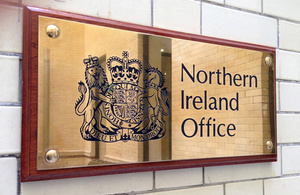 The Secretary of State, Rt Hon Theresa Villiers MP led the UK delegation at the 21st summit meeting of the British-Irish Council (BIC) in Jersey today.
The summit was attended by leaders and ministers from the 8 BIC member administrations, including the Taoiseach Enda Kenny, the First Minister Peter Robinson and the deputy First Minister Martin McGuinness, as well as minsters from the Scottish and Welsh governments and the Crown Dependencies of Guernsey, Jersey and the Isle of Man.
Today's Council meeting focused on the current economic situation in each of the member administrations, with a particular emphasis on improving opportunities for young people seeking employment.
Theresa Villiers said:
BIC plays an important role in bringing together the administrations of these islands to exchange knowledge and share experience of issues which affect us all. I was honoured to lead the UK delegation today and welcomed the opportunity to discuss the measures each administration is taking to stimulate economic growth and tackle youth unemployment.
As I told the summit, the UK government's hard work is paying off - the deficit is down by a third and the economy is turning a corner. The Northern Ireland labour market has also been steadily improving throughout 2013, with 5,230 new jobs created during the past year and the number of people claiming unemployment benefits dropping by 3,900 over the last 9 months.
But we realise times are still very tough for hard-working people and there remains a lot more work to be done. The British-Irish Council is a valuable forum for us to learn from each other as each administration continues to take action to embed the recovery.
At today's summit, members also approved a work programme for the new BIC creative industries work sector, which was established at the last summit to support an environment where a new generation of creative businesses can emerge and flourish.
The British-Irish Council was established under the Belfast Agreement in 1998. It plays an important role in promoting and developing links between member administrations, by providing a forum for consultation and co-operation on matters of mutual interest.
The leaders' summit meeting takes place twice a year, with the location rotating between all 8 administrations. The last summit was held in Londonderry in June 2013 and the next will be hosted by Guernsey government in June 2014.
For more information visit the British-Irish Council website
List of Delegates
UK Government
Secretary of State for Northern Ireland, Theresa Villiers MP
Minister of State for Justice, Lord McNally
Northern Ireland Executive
First Minister, Peter Robinson MLA
deputy First Minister, Martin McGuinness MLA
Irish Government
An Taoiseach, Enda Kenny TD
Minister for Arts, Heritage and the Gaeltacht, Jimmy Deenihan TD
Scottish Government
Cabinet Secretary for Finance, Employment and Sustainable Growth, John Swinney MSP
Cabinet Secretary for Culture and External Affairs, Fiona Hyslop MSP
Minister for Youth Employment, Angela Constance MSP
Welsh Government
First Minister, Carwyn Jones AM
Deputy Minister for Skills and Technology, Ken Skates AM
Government of Jersey
Chief Minister, Senator Ian Gorst
Minister for Employment and Social Security, Senator Francis Le Gresley MBE
Assistant Minister for Education, Sport and Culture. Deputy Rod Bryans
Government of Guernsey
Chief Minister, Deputy Peter Harwood
Minister for Commerce and Employment, Deputy Kevin Stewart
Isle of Man Government
Chief Minister, Hon Allan Bell MHK
Minister for the Department of Economic Development, John Shimmin MHK
Minister for the Department of Treasury, Hon Eddie Teare MHK
Published 15 November 2013