News story
Villiers: Pressing need to find solutions, but substantial differences remain
At the conclusion of the second week of all-party talks, the Secretary of State provides an update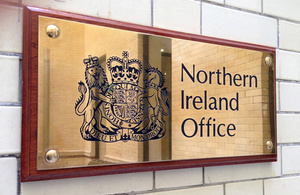 Earlier this evening Ms Villiers commented:
Discussion this week has been detailed and serious. All parties recognise the pressing need to find solutions, but substantial differences remain.
I believe there is a strong support amongst the public for a resolution of these questions to open the way for a return to normal and effective government. Church and faith leaders made this point clearly when I met them earlier this week.
Intensive talks resume next week on legacy issues, ongoing paramilitary activity, welfare and finance. There remains much to do but I am determined to make progress.
Published 1 October 2015