Press release
Villiers: 'Pivotal that all aspects of the Agreement are implemented in full'
The Secretary of State this afternoon responds to news that Sinn Fein will block the Welfare Reform Bill which is due to go through its final stages in the NI Assembly later today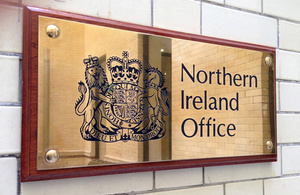 Ms Villiers commented:
Recent developments in connection with the Welfare Bill before the Assembly are deeply concerning. Changes to the welfare system in Northern Ireland were a key part of the Stormont House Agreement and without these changes it will be extremely difficult for the Executive to deliver a balanced budget.
It remains pivotal that all aspects of the Agreement are implemented in full. Failure to make progress on the issue of welfare has serious implications for the Executive. The recently agreed 2015-16 budget will not be deliverable in its current form.
I urge the Northern Ireland parties to work together to resolve this issue and continue the progress made so far in implementing the Stormont House Agreement.
The Agreement offers us the prospects of stability, and of growing prosperity, building on Corporation Tax devolution. We must not put those prospects in peril. The situation requires everyone to show leadership and responsibility.
Published 9 March 2015