News story
Villiers - no progress on welfare issues
At the conclusion of this morning's talks the Secretary of State has issued a short update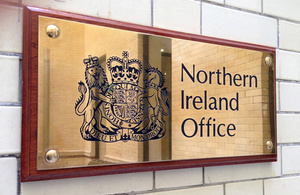 Ms Villiers said:
We didn't make any real progress on the welfare issues we discussed this morning.
There is still a long way to go. It is crucial that the welfare and finance provisions of the Stormont House Agreement are implemented because if they are not, more and more money will continue to pour into an unreformed high cost welfare system in NI, leaving less and less for crucial front line public services.
That could threaten the whole future of the devolved institutions.
This afternoon I will return to the Conservative Party Conference to make a speech before returning to Stormont for further cross party talks tomorrow.
Published 6 October 2015