Press release
Villiers - need for urgent, focused and intensive talks
Following a statement by the Prime Minister earlier this afternoon, the Secretary of State confirms urgent intensive talks will commence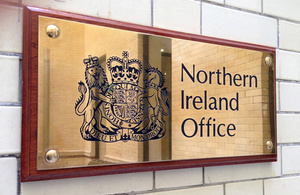 Ms Villiers commented:
The discussions I have held with the Northern Ireland parties and the Irish Government over recent days have confirmed how serious the situation now is at Stormont.
For months, the implementation of the Stormont House Agreement has been stalled as a result of the impasse over the Executive's budget and welfare reform.
The fallout from the recent murders in Belfast has once again highlighted the need to see all paramilitary organisations in Northern Ireland disband once and for all.
The Prime Minister and I, along with the Irish Government, agree that there is a need for urgent, focused and intensive talks.
A failure to resolve the issues under discussion would raise serious questions about the sustainability of the devolved institutions.
I would expect each of the parties to give these talks their highest priority as we seek to find a way forward – to implement in full the Stormont House Agreement and to look at ways of dealing with the scourge of paramilitarism, from wherever it might come.
Published 3 September 2015