News story
Villiers meets Irish Foreign Minister
Earlier this evening Secretary of State met Irish Minister for Foreign Affairs and Trade, Charlie Flanagan in Dublin to discuss the progress made in implementing the Stormont House Agreement.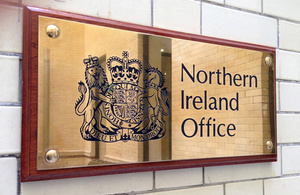 Speaking after the meeting Ms Villiers said:
It was good to have the opportunity to discuss with Minister Flanagan progress on the implementation of the Stormont House Agreement.
The Agreement retains the potential to enable us to take significant steps forward on issues such as the Executive's finances, dealing with the legacy of the past and making devolution work better.
But for that to happen it is essential that the current impasse on welfare reform is resolved. Otherwise both the Stormont House Agreement and the Stormont institutions are at risk.
So I will be continuing my talks with the NI party leaders tomorrow to press for a solution.
Published 19 May 2015