Press release
Villiers in USA to brief Administration
The Secretary of State for Northern Ireland, Rt Hon Theresa Villiers MP, will tomorrow begin an intensive three day visit to the United States where she will travel to Washington DC and New York.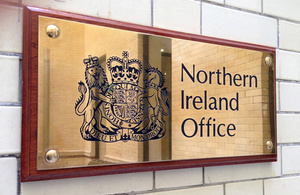 The purpose of the Secretary of State's visit – which has been planned for some time – is to update members of the US Administration, members of Congress and senior figures within the Irish American community on the current political situation in Northern Ireland.
In particular she will focus on the need for all parties to implement faithfully and in full the Stormont House Agreement reached last December. She will set out the UK Government's determination to achieve the full implementation of the Agreement and seek continued US support for that objective.
Earlier today Ms Villiers commented:
I welcome the opportunity to meet senior members of the US Administration, members of Congress and Irish American leaders over the next three days. The US remains the UK's closest ally and successive Administrations, along with many influential individuals, have played important roles in moving the political process in Northern Ireland forward.
My message over the next three days is clear. The Stormont House Agreement remains the best hope for building a brighter, more secure future for Northern Ireland. But for that to happen, the Agreement needs to be implemented in full. I will be looking for continued US support for that.
Without a workable budget and sustainable finances the credibility of the Executive will increasingly be questioned. The Stormont House Agreement provides an additional £2 billion of spending power for the Executive. It now needs to manage its resources responsibly, including implementing the welfare reforms which formed part of the Agreement.
The Government will not finance a more generous welfare system in Northern Ireland than in the rest of the UK. Those parties currently blocking welfare reform are simply putting more strain on the Executive's finances with the inevitable consequences that will have for frontline public services. All Northern Ireland parties must work to implement the other aspects of the Stormont House Agreement for which they are responsible.
We are determined to do whatever is necessary to ensure the implementation of the Agreement. That is the message I shall be taking to the US this week.
Published 27 July 2015