News story
Villiers embarks on 3-day US visit
The Secretary of State will brief key US stakeholders on the Stormont House Agreement and the challenges that lie ahead for Northern Ireland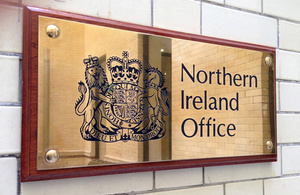 The Secretary of State Theresa Villiers today embarked on a 3-day visit to Washington and New York City (4-6 February). The main focus of her visit is to brief the US Administration, members of Congress, representatives of the Irish-American community, business leaders and the media on the Stormont House Agreement and the key tasks ahead.
Speaking ahead of her visit, Ms Villiers said:
December's Stormont House Agreement marked a very important step forward for Northern Ireland. It's important for me to come to the US to meet those people who have shown continued support for the Northern Ireland Parties and who remain committed to helping bring about a brighter future for everyone in Northern Ireland.
I will be briefing them on the significant challenges that lie ahead in securing a more peaceful and stable Northern Ireland. NI politicians have demonstrated real leadership and determination in negotiating the Agreement, and this positive outlook continues as they work together to ensure the full and faithful implementation of the Agreement.
For its part the Government believes that the Stormont House Agreement has the potential to be another step on the road to a Northern Ireland where politics works, the economy grows and society is more cohesive and united.
The Stormont House Agreement deals with a number of issues that were increasingly threatening the credibility and stability of the political institutions in Northern Ireland, established by the 1998 Belfast Agreement and its successors. The key issues tackled included finance, welfare reform, flags, parading and the past, as well as institutional reform.
The Agreement also paved the way for the UK Government to introduce legislation that will enable the Northern Ireland Assembly to vary the rate of Corporation Tax paid by business, in order to improve competitiveness, boost the private sector and attract more foreign direct investment. This legislation reached Committee stage in the House of Commons on 3 February.
The Stormont House Agreement received a widespread welcome, including from UK Prime Minister David Cameron, Irish Taoiseach Enda Kenny, President Obama and Secretary Kerry.
You can see photos from the Secretary of State's visit on our Flick pages
Published 4 February 2015