Press release
Villiers condemns letter bomb attack
Secretary of State, Rt Hon Theresa Villiers MP has this morning condemned the letter bomb attack aimed at Chief Constable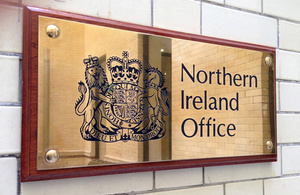 The Secretary of state has condemned those responsible for the letter bomb intercepted at Mallusk Sorting Office which was addressed to the Chief Constable. Ms Villiers said:
The Police Service of Northern Ireland and the Chief Constable are at the forefront of delivering community policing to keep people safe and secure across all of Northern Ireland. They have widespread community support. Those responsible for this device have almost no support and have demonstrated a blatant disregard for the safety of those who could have been injured by this callous and reckless attack.
The Chief Constable undertakes a challenging role in delivering community policing in a difficult threat environment. He and his officers have my full support and I certain that the vast majority of people in Northern Ireland will condemn this disgraceful bomb attempt and others which have taken place over recent days".
Published 25 October 2013