Press release
Villiers comments on Smithwick Report findings
The Secretary of State comments after publication of Smithwick Report earlier today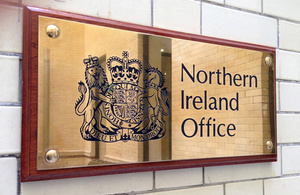 Following the publication of the Smithwick Report earlier this afternoon, the Rt Hon Theresa Villiers, Secretary of State for Northern Ireland commented:
My first thoughts are with the families of Chief Superintendent Breen and Superintendent Buchanan. They were two brave police officers dedicated to upholding the law and protecting the community from terrorism. The publication of the report will be very difficult for their families.
The report raises some serious concerns which I will need to consider in detail and discuss with the Irish Government. An important point to remember is that levels of cooperation between An Garda Siochana and the PSNI are now at unprecedented levels and are playing a crucial part in combating terrorist attacks in Northern Ireland.
Published 3 December 2013