News story
Villiers briefs church leaders & faith representatives on talks progress
Earlier today, the Secretary of State met with the Northern Ireland church leaders and faith representatives to update them on the current talks progress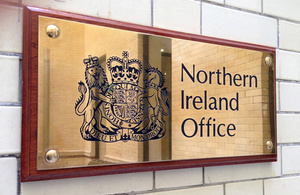 Following her meeting, Ms Villiers said:
The involvement of Northern Ireland's church leaders and faith representatives in the debate about Northern Ireland's future is welcome. I briefed them on the progress of the talks. I was also clear about the serious consequences if the parties fail to agree.
Finding a way forward will not been easy and I am therefore pleased the church leaders and faith representatives have committed to doing all they can to help. I also know that leaders from other areas of civil society in Northern Ireland are ready to offer similar support and I will remain in contact with them as this process unfolds.
Published 30 September 2015