World news story
Vietnam-UK relations: from the past to the future
A photo exhibition to celebrate 40 years anniversary of diplomatic relations between Vietnam and United Kingdom (1973-2013).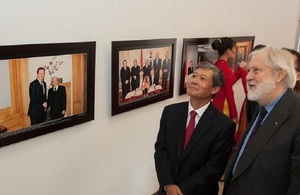 The British Embassy in Vietnam in cooperation with Vietnam News Agency (VNA) organised a photo exhibition with the theme of "Vietnam-UK relations: from the past to the future". This event included a number of activities to celebrate 40 years anniversary of diplomatic relations between Vietnam and United Kingdom (1973-2013).
Covering 100 photos, the exhibition reflects the establishment and development of diplomatic relations and friendship between the two countries which have created a foundation for today's successful strategic relationship.The exhibition helps promote mutual understanding and trust between Vietnamese and British people, contributing to strengthening the friendship, solidarity and bilateral cooperation between the two countries.
All the important events in the Vietnam-UK bilateral relations in the past 40 years such as the working visits by leaders from both sides, economic cooperation, trade and investment, development cooperation, and cultural exchanges were captured by photographers of different generations. In addition, London-based correspondents of Vietnam News Agency have regularly sent home news and images of the happenings in the UK to reflect the political, economic and social life of the UK. Photos from these sources have contribited to the huge archive of VNA and many of them are exhibited this time.
The exhibition also reflects UK today through lens of four photographers of different generations.
They are veteran photographer Pham Tien Dung, the Director of the Photo Editing Department of Vietnam News Agency; two reporters Pham Diem Quynh and Le Vu Hoi, former London-based VNA correspondents and Pham Lan Chi, a student of the Chu Van An High School, who represents the young generation of Vietnam. Images of British traditional culture, ancient architecture, friendly and hospitable people, captured by either professional or amateur photographer paint the vivid picture of the modern Britain to date.
The photo exhibition runs from 30 September to 6 October 2013 in Hanoi and from 4 - 11 October 2013 in Ho Chi Minh City.
Further information
Follow the British Embassy in Vietnam on Facebook
Published 3 October 2013