News story
Vietnam's leader visits UK for the first time
General Secretary of the Vietnamese Communist Party's visit to the UK is a sign of the strengthening relationship between UK and Vietnam.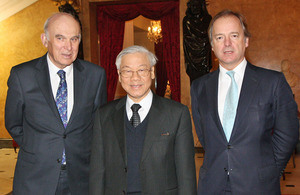 The General Secretary of the Vietnamese Communist Party, Nguyễn Phú Trọng, is currently on a visit to the UK, accompanied by a large delegation of Vietnamese Ministers. The visit is part of an unprecedented season of high level visits to and from South East Asia, that represent the UK Government's commitment to building stronger relationships with the world's fastest-growing economies.
The Foreign Secretary William Hague said:
This is a landmark year for the UK and Vietnam, marking forty years of diplomatic relations between our countries. As a sign of the strengthening of the relationship between us, Secretary Trong's visit is the first ever by a Communist Party General Secretary of Vietnam to the UK.
Figures show that trade between the UK and Vietnam rose 26% from 2010 to 2011 to $4.3 billion a year. This is very positive news for both our economies. Vietnam's high growth economy will continue to present many opportunities for British businesses, and this visit will confirm Britain's unique position as a friendly business environment and the gateway to Europe.
With an economy growing at a remarkable 6% per year, and an expanding middle class, Vietnam holds huge potential for the UK and South East Asia. Bilateral trade in goods from 2010 to 2011 increased by 26%, whilst trade in goods from January to November 2012 stood at $3.96 billion. UK companies already have a strong foothold in the Vietnamese market and are well placed to build on this, particularly in areas where the UK is traditionally strong such as infrastructure and financial services.
During his visit, General Secretary Trong has met the Prime Minister David Cameron, attended a dinner hosted by the Business Secretary Vince Cable, and taken part in a working lunch with the Foreign Secretary. He has also visited Parliament to attend a roundtable discussion with MPs and watch Prime Minister's Question Time, and opened a business dialogue hosted by the Lord Mayor at Mansion House before calling on the Prince of Wales.
Later this month, Lord Astor will become the first UK Defence Minister to travel to Vietnam.
Further Information
Read the joint UK/Vietnam statement on the visit
Published 23 January 2013