World news story
Vietnam 2050 Pathways Calculator launch with support from Britain
"Vietnam 2050 Pathways Calculator" is developed from the UK's 2050 Calculator on the basis of an energy balancing model.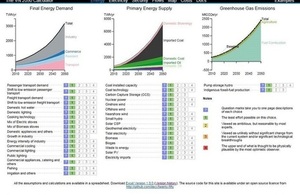 The UK's Department of Energy and Climate Change (DECC) in conjunction with the British Embassy Hanoi, and Vietnam Ministry of Industry and Trade (MOIT) officially launched "Vietnam 2050 Pathways Calculator" in Hanoi on 23 January.
The "Vietnam 2050 Pathways Calculator" (or the Vietnam 2050 Calculator) is an innovative web-based computer model, showing Vietnam's energy demand and supply and how they interact with the country's greenhouse gas emissions. It is an interactive user-friendly web tool that allows anyone with an internet connection to explore different energy and emissions scenarios out to the year 2050.
Developed from the UK's 2050 Calculator, the Vietnam 2050 Calculator is based on an energy balancing model which uses a number of sectoral trajectories to calculate possible energy pathways to 2050. It draws on work led by Industrial Safety Techniques and Environment Agency of MOIT with inputs from a group of sector-experts. Its data has been adapted from the UK model by Vietnamese experts to fit the national circumstances of Vietnam. The development of Vietnam 2050 Calculator project is now completed and the web tool is available for the public at the website and the UK's 2050 Calculator can be found at UK 2050 Calculator and 2050 calculator tools.
The UK passed pioneering legislation with the Climate Change Act in 2008, which set ambitious carbon emissions reduction targets of 36% by 2020 and 80% by 2050, compared with those in 1990, along with a five-year carbon budget plan. DECC launched the UK 2050 Calculator in 2010 to promote an energy literate debate on how these targets can be met.
Giles Lever, Ambassador of the British Embassy Hanoi, said:
Vietnam's 2050 Calculator is based on an award winning UK design developed by DECC. We're delighted to have facilitated this exchange of best practice with MOIT, and hope that the tool proves as useful to Vietnam as it has been in the UK in promoting an open debate about low carbon planning. This project, which received funding from the UK's International Climate Fund (ICF) has included technical transfer of modelling techniques between Vietnam and the UK, as well as visits to the UK to meet with DECC and other UK government departments. Vietnam joins other countries such as China, India, South Africa, Japan and Thailand, who have also developed 2050 Calculators. We look forward to continuing to supporting the MOIT as they form part of this international community.   According to Tran Van Luong, Deputy Director General of Industrial Safety Techniques and Environment Agency of MOIT:
Vietnam 2050 Calculator is applicable not only to policy makers but also to a wider range of public, including the academics, business, and socialists among others. The web tool is interactive with energy supply-demand and GHG reduction options at national level. We expect to replicate the tool to provincial level for supporting their local authorities in tackling climate change, formulating and implementing action plans on green growth and somehow making the connection with the national tool.
Nguyen Duc Cuong, Director of Renewable Energy and CDM, Energy Institute, said:
We find the web tool very useful. The project helps increase both knowledge and technical capacity for our technical development team. I also believe that the tool can support Vietnam in integrating more data for other related sectors into the model and provide us with better scenarios for energy development. We want to thank the UK for working with Vietnam to develop our own Calculator, especially the knowledge transfer and sharing.
Vietnam 2050 Calculator is aimed to be applied as a tool for supporting Vietnam's energy policy analysis and planning and for a public use in the near future.
More photos for the event please visit our flickr.
Published 23 January 2015