Press release
Victims put first in the criminal justice system
People who fall prey to criminals will now receive more support than ever before to help bring offenders to justice and move on with their lives, Justice Secretary Chris Grayling has announced.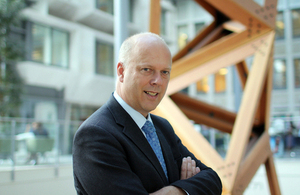 Coming in to force today, the new Victims' Code sets out in plain English what people should expect from the moment they report a crime to the end of a trial. For the first time there is tailored advice in the Code for under-18s and their guardians on attending court and giving evidence.
The Code will make sure that victims of the most serious crimes, including hate crime, domestic violence, terrorism and sexual offences, persistently targeted victims and all vulnerable and intimidated victims get access to vital services, like pre-trial therapy and counselling.
Justice Secretary Chris Grayling said:
"Victims deserve the best possible support to cope and recover from the effects of crime. From today they will have more help than ever before to help bring offenders to justice, with the highest level of service at every stage of the system for those who need it most.
"I want to create a fairer criminal justice system where victims have a louder voice and those who break the law are more likely to go to prison for longer. I also want to ask everyone working with victims to help deliver the promises in the new Code and make sure their needs are put first."
The statutory Victims' Code will also:
Entitle victims to say whether they want to read out their Victim Personal Statement in court, subject to the court's discretion
Ensure all victims are automatically referred to victims' service by the police so that all victims receive consistent and immediate access to support services
Give victims a clearer means of redress if they are not given the support they deserve
For the first time give businesses, who are victims of 9.2 million crimes committed each year, will be able to have their say by writing an Impact Statement to explain to the court how a crime has affected them.
Victims' Commissioner Baroness Helen Newlove said:
"The new Victims' Code is a step in the right direction. The Victim Personal Statement will - if used to the degree we hope – provide victims with a say in court.
"I will report on the delivery of the Victims' Code, including clear assessments of whether victims have got redress when the code has been breached, and whether a victims' right to read their statements personally in court is being delivered in practice by the end of 2014.
"There is more to do. Over the next nine months, I will work with an expert team to shine a light on areas of the criminal justice system which is still failing victims, including teams dealing with domestic violence and anti-social behaviour."
Javed Khan, chief executive of charity Victim Support, said:
"From today, victims are promised more support than ever before - from the moment they report a crime and as they journey through the criminal justice system.
"We know from speaking to more than a million victims each year, the impact crime can have on their lives, particularly vulnerable groups such as children and those who have suffered domestic violence or hate crime. Getting timely access to information is key for victims, so they are reassured from the outset that an often traumatic experience will be made as easy as possible.
"We must all work together so that those working in criminal justice roles are fully aware of the Code, and those affected by crime know their rights. Ongoing vigilance, to ensure that all agencies take their responsibilities under the Code seriously, is vital. Victim Support will be monitoring its implementation closely to make sure that victims get the most out of these new measures."
Also being published today is the new Witness Charter, which has been revised in line with the Victims' Code. It sets out what witnesses can expect from criminal justice agencies, from reporting a crime to the court trial, and highlights the types of special measures that could be used to support vulnerable and intimidated witnesses give their best evidence.
The new Victims' Code is part of the Criminal Justice Strategy and Action Plan. This was launched in June this year to help speed up the justice process through a range of actions including, the digitalisation of the courts process, easier access for victims and witnesses to give evidence in court, and a more transparent and responsive criminal justice system.
Notes for editors:
View the full version of the Victims' Code
Other materials available on this page include:
Public information leaflets about the new Code, one specifically aimed at adults, another at under-18s.
A poster highlighting the support victims are entitled to during their journey through the criminal justice system.
A YouTube video aimed at helping under-18s understand the support and information they are entitled to under the Code is also available on this page, as well as on the MoJ YouTube channel
An EasyRead version of the Code for people with learning difficulties.
An audio version is available for the visually impaired.
Published 10 December 2013