News story
Vicar jailed over sham marriages
Church of England Vicar received two and a half year sentence after previously admitting conducting sham marriages and stealing from Church.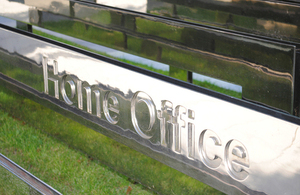 Suspicions were raised about Rev Patrick John Magumba when officers investigating a sham marriage interviewed him in connection with one of his marriages. Magumba, a 58 year old Ugandan, came to the UK to take over the role of Vicar at three churches in Greater Manchester. 
Misleading the church
Ignoring church guidance he conducted 28 sham marriages at two of his churches in St. Peter's, Rochdale and St. Luke's, Deeplish. These marriages took place in the period between April 2008 and February 2011.
Magumba was found to have misled the Church Parish Council, ignored the Marriage Act requirements on publishing Banns of marriage, removed registers and certificate books from the church, failed to account for payments for weddings and stolen from the church.
Immigration Minister Damian Green said: 
          
'Today's sentencing sends a clear message to anyone considering breaking our immigration laws that Britain is no longer a soft touch. We now have specialist teams of immigration and police officers working to prosecute people who commit this form of organised criminality no matter who they are.
'We work closely with the church to identify sham marriages and last April we issued special guidance to help the clergy identify those who seek to abuse the institution of marriage.'
The North West Criminal and Financial Immigration Team from UK Border Agency worked closely with the Church to tackle this corruption and will continue to work to target this type of immigration crime.
Rev Magumba was sentenced to a total of two and a half years to run concurrently for the following offences as follows:
conspiracy to facilitate a breach of UK immigration law by a non EU person - 2 years
two counts of theft by an employee - 6 months
Published 26 January 2012