Veteran urges traumatised troops: 'don't brush it off'
A Falklands conflict veteran is urging troops who experience trauma whilst on operation, to seek psychological help sooner rather than later. Report by Sarah Goldthorpe.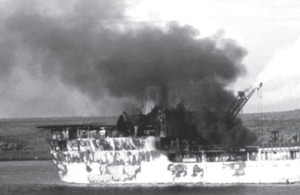 As the success of Britain's war heroes was applauded on their return from the Falklands in 1982, a quieter and far less glorious legacy of the conflict began to take shape.
Michael 'Iddy' Iddon, a former private in the Royal Army Medical Corps, was a teenager when he deployed to the South Atlantic as a combat medic.
After treating Welsh Guard casualties as the Sir Galahad was bombed by Argentine troops, the junior soldier almost drowned while carrying out orders to abandon ship.
Thirty years later, the 49-year-old post-traumatic stress disorder (PTSD) sufferer is still haunted by those memories.
As the Army's 'Don't bottle it up' campaign restarts this month, the Lancastrian is urging personnel to talk to their colleagues about feeling unwell:
Thirty years ago, sufferers got swept under the carpet and vanished out the back door, but that doesn't happen now," he explained at a quiet pub in Chorley.
Army mental health has changed a huge amount. Post-traumatic stress is only like any other medical condition and it's treated as an illness.
To be honest it's just like catching the clap. If you address it now, it won't become deep-rooted.
Mr Iddon's sense of humour appears to have served him well throughout an incredibly dark period of his life.
In the wake of his experiences at sea, he spent years being too terrified of water to drink it and living out of a trench in his parents' back garden for fear of going indoors.
His nightmares continue:
At the time they [the Army] said I had an 'inability to communicate with people'," the keen motorcyclist recalled.
I had trauma therapy, and they knew it was down to the Galahad, but they didn't want to think it was a problem.
Thanks to the charity Combat Stress and the support of friends at The Royal British Legion's Riders Branch, the veteran's life is improving.
But the process has been slow, and his message to troops returning from Op HERRICK is clear: act now, not later:
Post-traumatic stress is a multitude of illnesses; drinking, disassociation, depression and anger," the former serviceman commented, "but the only person who knows how you are really handling things is you.
We lost 255 lads in the Falklands, but it's well documented that more have committed suicide because of what they saw.
The sooner you get treatment, the lower the chance that you will end up a 'basket case'," he added.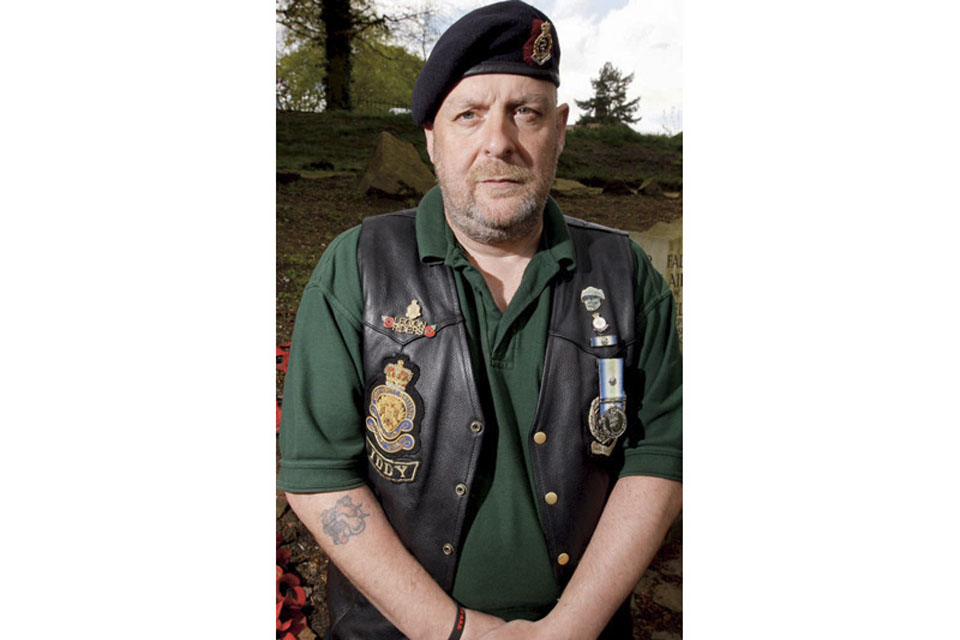 Mr Iddon continued:
I spent most of my life avoiding psychiatric units, but things have altered enormously now.
When you are in a war zone, and you have just watched a man being blown up, you have to bury it deep inside and let the job take over.
But now you can see someone part way through a tour.
If you speak to your guv, he will sort you out and get you the help you need.
If it means sending you to Combat Stress for six weeks or to the Army psychiatrist, it's nothing to be ashamed of.
Seeing things at war will change you, but it shouldn't change who you are.
So, if you get offered some sort of treatment, don't sit there and brush it off, bloody do it!
If you think you are suffering from mental health problems contact your unit TRiM practitioner, welfare support officer, padre (epadre@armymail.mod.uk) or the charity Combat Stress on 0800 138 1619.
Samaritans can also provide round-the-clock support on 08457 909090.
Published 29 June 2012