War hero Lance Corporal Johnson Beharry VC, who demonstrated ice-cool courage when he saved the lives of several members of his unit during ambushes in Iraq in 2004, has glided through to the final eight in ITV's popular Dancing on Ice competition. He talks to Lorraine McBride.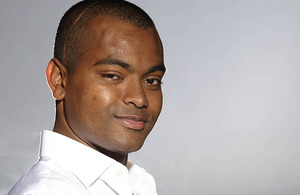 His actions made him the first living recipient of the Victoria Cross in 40 years. Since then, Lance Corporal Beharry has fought back from the serious head injuries he sustained in Iraq and is currently oozing never-say-die spirit on ITV's blockbuster entertainment show 'Dancing on Ice'.
Lance Corporal Beharry admits that when he got the phone call from his agent offering him a place in the show, he replied with an emphatic 'yes'. But that is not to say that he took the challenge lightly:
I mean, I'd never been in an ice rink before," says Lance Corporal Beharry in wonderment.
I had seen ice rinks on television but I had never laced up ice skates or even been on roller skates.
Asked if skating is easier or harder than he thought, he says:
I found it difficult at the beginning because I had to start from basics including how to walk on skates. I take every day as it comes but I love challenges and learning new things every day.
Was he worried about his head injury, if he took a tumble?
No, I know people say, 'Why put yourself in a position where it might happen again?'," says Lance Coporal Beharry in his soft Caribbean lilt. "But I can't run away from what might happen.
It's not been easy. Lance Corporal Beharry hurt his finger badly when a skating boot fell on it, requiring a high-speed dash to hospital for six hours of treatment, which included the removal of a fingernail. Since then, Jayne Torvill and Christopher Dean, the show's choreographers, have adapted his routines and Lance Corporal Beharry must now avoid lifting his partner Jodeyne Higgins, which is hampering progress.
It is holding me back," he nods at his injured digit. "It is really painful so unfortunately I have to live with it now but I am coping. I am doing more skating than lifting, so hopefully the judges will see that as much as the others are doing things above, I am doing the same amount below - and even more tricky.
Tricky or not, almost seven years after his near fatal injury, he is a gliding-graceful-skating inspiration for millions. A bonus is that training has not only made him super-fit, but boosted his mobility:
Skating is healing me physically and mentally," says Lance Corporal Beharry. "Processing information pretty quickly is helping, though I am finding [routines] difficult because it is all so quick. But it's working a lot of muscles that I never knew I had.
No fear
When he spins Jodeyne before 10 million viewers, what goes through his mind?
I have no fear," he says, which could sound a tad ingenuous coming from most TV show contestants, though it is merely typical of his tell-it-like-it-is frankness.
I have no doubt that everything will be fine," he adds. "My most exciting, relaxed day is Sunday, just before a performance.
While other celebrities run around exuding nervous energy, Lance Corporal Beharry remains cucumber-cool:
Everyone thinks I am crazy because I am running around happy and can't wait to go on and perform," he grins.
Unsurprisingly, Johnson Beharry VC is a magnet to TV producers who itched to sign him up to all the usual TV suspects, 'Strictly Come Dancing', 'Big Brother' and 'I'm a Celebrity…', all rejected with Lance Corporal Beharry's customary single-mindedness:
"Dancing on Ice was a completely different challenge," he says. "This one was dancing and skating at the same time, unlike 'Strictly' when you just dance."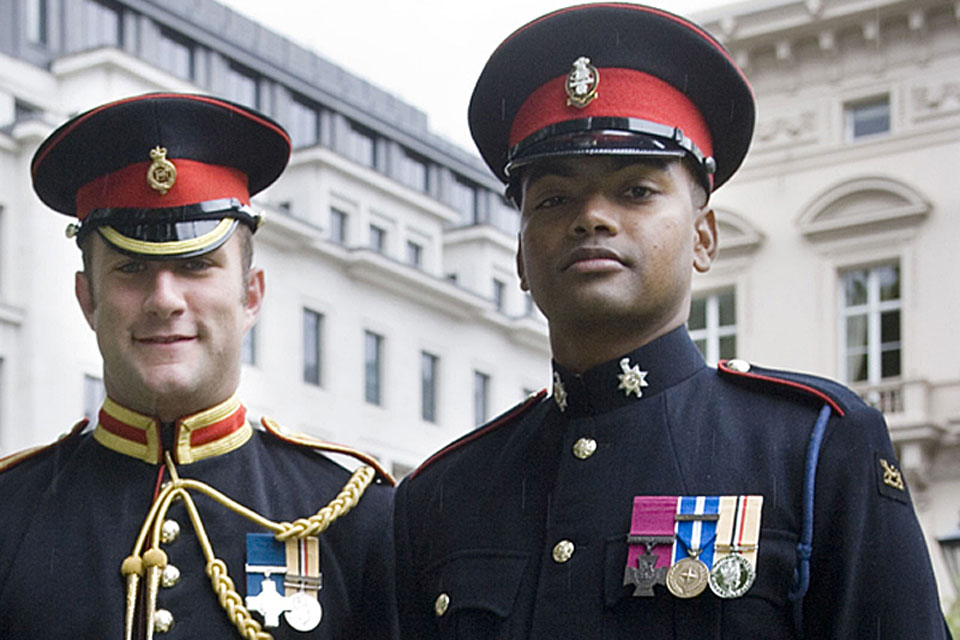 Surely though, his Army training would have made him a shoo-in for Jungle King on I'm a Celebrity…?
"Yeah, well for me, being in the jungle is everyday life what with being in the Army and growing up in the Caribbean," he explains.
His greatest supporters are his huge family back in Grenada who tune in every Sunday night via the internet:
"They are glued to the show and really proud of me," says Lance Corporal Beharry. "My brother has been to the show and they all want to come."
Soldiering and skating may be polar opposites, but Lance Corporal Beharry reckons that his Army ethic means that he can seamlessly slip into a starry cast with ease.
It is all a huge contrast to his now day job giving out careers advice to prospective soldiers who visit the Army Careers Office in central London. It is easy to imagine that youngsters must do a double take when a famous soldier, who holds the highest honour for bravery in the land, greets them. But what about the reaction of strangers when they spot a living legend?
"It's the same story," he says modestly. "They say 'hello'. Everyone is really happy with what I'm doing for troops, injured soldiers and in recognising what we do."
Secrecy
Asked if he swore his Army mates to secrecy prior to ITV's press launch he says:
"A few of them knew and they were excited. I've had good support, some have even been along to the show and it is really good knowing that." He means it. Days later, a visibly moved Lance Corporal Beharry revealed on the show that a friend was in the audience who he hadn't seen in five years since they convalesced together in hospital.
He brushes off suggestions that his mates tease him about swapping khaki combats for pastel, sequinned shirts:
"It is different," he agrees. "But I just treat it as a discipline because I'm doing a job and this is my uniform for it."
Most reality show contestants blather endlessly about their 'journey' and, in Lance Corporal Beharry's case, it led to a spat live on air between head coach Karen Barber and judge Jason Gardiner who said that Lance Corporal Beharry had made only a 'slight journey'. But the media have pounced on the story of a war hero risking his life on ice, with one tabloid tipping him as favourite, after leaks that he topped the phone-in votes.
"It is good," chuckles Lance Corporal Beharry. "But it is early days. I take every day as it comes. I go on the show every Sunday and enjoy the moment."
There is little doubt that Lance Corporal Beharry has led a remarkable life. But he insists that winning is not the aim. Instead he wants to show that no matter what life throws at you, with the right mindset anything is possible.
So will the ice-cool soldier keep skating after the series ends and the crowds go home?
"I definitely will," he says. But he takes nothing for granted and even when you tell him that everyone is rooting for him, he replies with a fervent, "I hope so!"
Published 18 February 2011