Vaccine cuts cases of meningitis and septicaemia in UK infants
Vaccine data reveals meningitis and septicaemia cases caused by Meningococcal group B have nearly halved in eligible infants.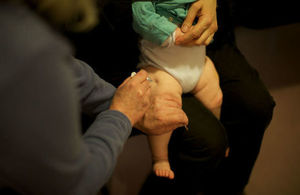 The number of cases of meningitis and septicaemia caused by meningococcal group B (MenB) infection in eligible infants has nearly halved over the last year after a new vaccine against the disease was introduced, according to Public Health England (PHE) research.
All newborn babies in the UK are now routinely offered the jab against MenB, which is potentially deadly, in the world's first infant programme using this vaccine. PHE results have shown that this vaccine is highly effective against this devastating infection and potentially life-saving.
Protection against any MenB infection was shown to be very high, with disease rates in vaccinated children less than one fifth of the rate in unvaccinated infants. The number of MenB cases in infants aged less than one, the age group most likely to be affected by MenB, dropped by around half. Only 37 cases have been recorded in the eligible age group since the programme began; this compares to an average of 74 cases in the same period from the previous 4 years. PHE scientists presented these findings, based on numbers of laboratory confirmed cases, to the International Pathogenic Neisseria Conference (IPNC) in Manchester today (5 September 2016).
MenB is rare, with between 400 and 1,200 cases each year in England, with infants under one year of age most at risk. Meningococcal infection is the leading cause of meningitis and a deadly form of septicaemia (blood poisoning); around 1 in every 10 people affected dies. There are effective vaccines against other strains, but until now there has been no vaccine proven to offer children protection against MenB.
Dr Mary Ramsay, Head of Immunisation at PHE, said:
This is without doubt great news. MenB is a rare, but terrible disease. It's cut many lives short and can leave children maimed for life, causing devastation for their families. Now we know this vaccine can and will save lives and prevent lifelong disability.

The programme is still in its early days, so we will be monitoring the longer-term impact of the vaccine through our surveillance programme. But the benefit of the vaccine is clear. We hope countries around the world looking at these results will consider introducing similar vaccination programmes, hopefully saving the lives of many, many children.
MenB can cause meningitis, an infection of the membranes that surround the brain and spinal cord, and septicaemia or blood poisoning, both potentially fatal illnesses. With early diagnosis and antibiotic treatment, most children make a full recovery, but it is fatal in 1 in 10 cases. About 1 in 10 of those who survive are left with severe long-term problems, such as limb loss, and 1 in 3 have less serious problems including deafness and learning difficulties.
The high uptake of the vaccine, called Bexsero, is considered to be key to the success of the programme. It is offered as 3 jabs; the first at 2 months, a second at 4 months and a final booster at 12 months. PHE monitoring found that over 95% of babies got their first jab and almost 90% the second jab by the age of 6 months.
Dr Ramsay added:
Infants are most at risk during their first year, so we urge parents to make sure their babies get the first 2 jabs on time to give them the best protection. Call your GP to make an appointment if you've missed any doses. However, not all strains of MenB are covered, so we encourage all parents and older children and adults to be aware of the symptoms.

The disease develops rapidly. Early symptoms can be confused with flu or other less serious infections. At a later stage children may have pale, blotchy skin and a red rash which doesn't fade when a glass is rolled over it; a sign many parents will recognise. However, don't wait to see if a rash develops, parents should trust their instincts if their child appears be getting worse and seek urgent medical attention immediately.
Background
Public Health England exists to protect and improve the nation's health and wellbeing, and reduce health inequalities. It does this through world-class science, knowledge and intelligence, advocacy, partnerships and the delivery of specialist public health services. PHE is an operationally autonomous executive agency of the Department of Health. Follow us on Twitter: @PHE_uk and Facebook: www.facebook.com/PublicHealthEngland.
For bids for interviews please contact Anushka Naidoo at anushka.naidoo@phe.gov.uk or on 020 8327 7004.
Spokespeople: Dr Mary Ramsay, Head of Immunisation at PHE.
The full term for MenB is meningococcal group B. Meningococcal disease is caused by meningococcus bacteria. There are 5 main types that commonly cause disease: A, B, C, W and Y. Group B causes the most disease in the UK.
The data was collected over the 10 months from September last year to May this year as part of PHE's routine surveillance programme. The data is due to be published in a journal later this year.
Anybody born from May 2015 onwards is eligible up to the age of 2 years. Parents should contact their GP to make an appointment if their baby hasn't had any jabs or if any are overdue.
Bexsero is manufactured by GSK (GlaxoSmithKline).
In babies, the main symptoms of meningitis include:
a high-pitched, moaning cry
being irritable when picked up
a bulging fontanelle
feeling drowsy and not responding to you, or being difficult to wake
being floppy and having no energy
stiff with jerky movements (convulsions or fits)
refusing feeds and vomiting
having skin that is pale, blotchy or turning blue
a fever
In babies the main symptoms of septicaemia may include:
rapid or unusual patterns of breathing
skin that is pale, blotchy or turning blue
fever with cold hands and feet
shivering
vomiting and refusing feeds
red or purple spots that do not fade under pressure (do the 'glass test')
pain or irritability from muscle aches or severe limb or joint pain
floppiness
extreme tiredness
In older children, adolescents and adults, the symptoms of meningitis may include:
a stiff neck (check that they can kiss their knees or touch their forehead with their knees)
a very bad headache (although this on its own is not a reason to get medical help)
wanting to avoid bright lights
vomiting
a fever
tiredness, being less responsive and confused
a rash
In older children, adolescents and adults, the main symptoms of septicaemia include:
sleepiness, being less responsive, uninterested or confused (a late sign in septicaemia)
severe pains and aches in the arms, legs and joints
very cold hands and feet
shivering
rapid breathing
red or purple spots that do not fade under pressure (the 'glass test)
vomiting
a fever
diarrhoea and stomach cramps
Symptoms can occur in any order and some may not appear at all. Trust your instincts. Some of the symptoms are very similar to those of flu so, if you're in any doubt about the health of your baby, trust your instincts and get advice urgently by contacting your doctor or call the NHS on 111.
Published 5 September 2016