News story
Vaccinate toddlers against flu advises Chief Medical Officer
Parents should get their toddlers vaccinated against flu now to protect them from severe illness the Chief Medical Officer has advised.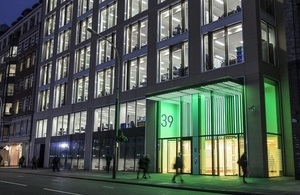 Healthy under-5s are more likely to be admitted to hospital with flu than any other age group – and 5 times more likely than 65-year-olds.
Two million 2, 3 and 4-year-olds are eligible for the free nasal spray flu vaccine from their GP.
Analysis shows that vaccinating half of all children aged between six months and four would prevent almost half a million cases of flu.
But just over a quarter have received it so far – fewer than this time last year. And half of parents do not know the free spray exists or that children need vaccinating every year.
Flu leads to hundreds of thousands of GP visits and tens of thousands of hospital stays a year.
Young children are more likely to spread flu because they tend to have greater contact with others, and may not cover their mouths when coughing and sneezing or wash their hands enough.
There are more than 15 million people in England with at least one long-term health condition and they are 11 times more likely to die if they catch the virus.
The nasal spray vaccine offers the best protection for children and the only likely side effect is a slight runny nose for a short time. This year the free vaccine was extended to 4-year-olds and the aim is to gradually roll it out to all 2 to 16 year olds.
Groups eligible for free flu vaccinations on the NHS are:
children aged 2, 3 and 4.
pregnant women
under 65s with long-term conditions
over 65s
Chief Medical Officer, Professor Dame Sally Davies, said:
Flu can be really nasty for toddlers, leading to time off nursery which has a big impact on mums and dads and sometimes even a stay in hospital.

They also spread the virus easily and often pass flu to grandparents and other relatives who can become very ill, fast.

Giving 2, 3 and 4 year olds the free nasal spray really is in everyone's interests if you want to help avoid a miserable winter for all the family.
Published 28 November 2014