World news story
Vacancy for Military and Migration Assistant in Albania
This was published under the 2010 to 2015 Conservative and Liberal Democrat coalition government
The British Embassy has a full-time vacancy for a Military and Migration Assistant working in the Political section of the Embassy.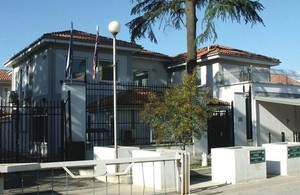 The British Embassy has a full-time vacancy for a Military and Migration Assistant working in the Political section of the Embassy. The jobholder will be employed full-time, initially on a 12-month fixed term contract with the possibility of future employment subject to review. The successful candidate will be expected to start during July.
Duties and responsibilities include:
Administration of the return of Albanian and British prisoners transferred under bilateral Prisoner Transfer Agreement. Organising exchanges, visits and projects in coordination with Ministry of Justice, Prison Service and Probation Service.
Administration of projects in fields of repatriation of trafficked vulnerable individuals, in particular women and children, in liaison with Albanian Ministry of Labour and Social Services, relevant NGOs, IoM and other stakeholders.
Providing support to immigration and asylum caseworkers in the UK.
Supporting UK and Albanian military cooperation through liaison with UK and Albanian Ministries of Defence and the Embassy's regional Defence Attaché. Organisation of and support for visits (including of high-level UK military officers) and exchanges. Coordination of training courses and contribution to planning and administration of bilateral exercises. Support for military overflights and ships' visits. Liaison with the Albanian Armed Forces and Ministry of Defence. Representing the DA at meetings and briefings when the DA is unavailable.
Reporting on developments in the security field in Albania and the region, under the direction of the British Ambassador and Defence Attache. Reporting and translating of open source news items that are of potential interest to the DA.
The successful candidate will need to be educated up to degree level. You will be expected to have a good understanding of Albanian politics, with a strong focus on rule of law and the judiciary. Knowledge of regional and military issues will be advantageous though not essential. The job may involve some regional and UK travel on official duty.
Key required skills:
Excellent written and spoken English
Understanding of Rule of Law, justice system and defence issues
Experience of reporting and analysis
Anyone interested in this position should send a CV and a covering letter outlining their relevant experience and suitability for the job. The letter and CV should be placed in a sealed envelope and addressed to 'Military and Migration Assistant Vacancy, c/o the Corporate Services Manager, British Embassy', and must reach the Embassy by 14:00 on Wednesday 3 July 2013.
We are sorry but we are unable to acknowledge all applications for this vacancy. Short-listed candidates will be invited for interview as soon as possible after the closing date.