World news story
Uzbek officials observe the parliamentary election in the UK
Uzbek officials participate in an Election Assessment Mission in the UK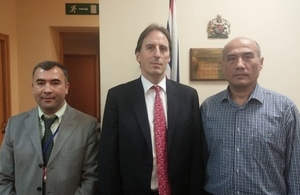 Two Uzbek officials, MP Akmal Umirzakov, Member of the Foreign Affairs Committee of the Legislative Chamber of the Oliy Majlis, and Dr Shukhrat Sirojiddinov Member of the Central Election Commission and Vice Rector of the National University of Uzbekistan, are currently participating in an Election Assessment Mission in the United Kingdom organised by the Commonwealth Parliamentary Association UK Branch from 2 to 8 May.
The British Embassy in Uzbekistan sponsored Mr Umirzakov and Dr Sirojiddinov's participation in the CPA UK's programme. The programme members will participate in training for election observers and observation of the UK General Election on 7 May in the parliamentary constituency of Watford, 27 km from central London. In Watford the Uzbek officials will meet election candidates, civil society groups, and local and electoral officials. On 7 May Mr Umirzakov and Dr Sirojiddinov will be observing every aspect of the Election Day process, including opening, voting, closing and the count.
Her Majesty's Ambassador George Edgar met Mr Umirzakov and Dr Sirojiddinov before their departure to the UK.
Speaking about the purpose of the visit, the Ambassador said:
I'm pleased that a member of Uzbekistan's Parliament and a member of the Central Electoral Commission will have the chance to see how a parliamentary election is organised and run in the UK. There is much to be gained by sharing experience, and I hope this will be a useful and interesting visit
Published 7 May 2015