World news story
Uzbek British Trade and Industry Council meets in Tashkent
The 21st annual session of the Uzbek-British Trade and Industry Council took place on 6 November 2014 in Tashkent.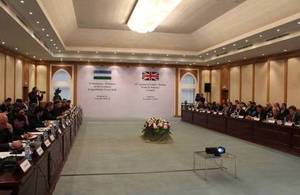 The 21st annual session of the Uzbek-British Trade and Industry Council took place on 6 November 2014 at the International Business Centre in Tashkent.
HM Ambassador George Edgar led the UK trade delegation of more than twenty companies representing different sectors of British business. The Uzbek Minister of Foreign Economic Relations, Investment and Trade and UBTIC Co-Chairman H. E. Mr Elyor Ganiev represented the Government of Uzbekistan and led a delegation of 20 Uzbek companies.
Opportunities in Uzbekistan
Investment opportunities were outlined in presentations from both sides. During the session the British companies were informed about potential for doing business in diverse fields of Uzbek economy, including:
Oil and Gas
Chemical and Petrochemical Industry
Mining
Automobile
Textile
Pharmaceutical
Production of Construction Materials and Electrical Appliance
The Uzbek side also briefed about the conditions created for foreign investors to implement high-tech projects in the free economic zones in the cities of Navoi and Angren. The parties also discussed specific projects in the field of education, science, tourism, waste management, as well as clean development mechanism and energy saving technologies.
Background
UBTIC was established under a bilateral agreement in 1994. It comes under the umbrella of the British Government's overseas trade organization, UK Trade & Investment. UBTIC is a government-sponsored trade promotion body, which supports and assists UK businesses currently operating in Uzbekistan, or wishing to invest in the country.
UBTIC is the main forum for promoting the development of trade and investment relations between Uzbekistan and the United Kingdom. A key objective of the UBTIC session was to help take business links between our countries to a new level, and to increase awareness of the business opportunities in both our countries.
UBTIC session is held annually, alternatively in Tashkent and London and jointly chaired by representatives of the two sides. The Uzbek Co-Chair is H. E. Mr. Elyor Ganiev, Minister for Foreign Economic Relations, Investments and Trade of Uzbekistan.
Contacts
Contact the British Embassy in Tashkent for further information.
Published 6 November 2014