World news story
Uzbek British Trade and Industry Council discusses trade issues
The 20th anniversary meeting of the Uzbek British Trade and Industry Council took place in the FCO in London on 21 November 2013.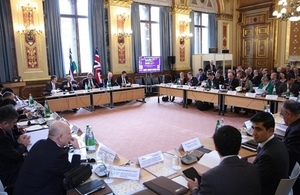 The 20th anniversary meeting of the Uzbek British Trade and Industry Council (UBTIC) took place at the Foreign and Commonwealth Office in London on 21 November 2013.
The meeting was chaired by the Rt Hon Peter Lilley MP, British Co-Chair of UBTIC. The Uzbek Minister of Foreign Economic Relations and UBTIC Co-Chair H. E. Mr Elyor Ganiev represented the Government of Uzbekistan and led a delegation of 20 Uzbek companies. The Uzbek Foreign Minister, Mr Abdulaziz Kamilov, making an official visit to the UK, also spoke at the opening ceremony.
Opportunities in Uzbekistan
During the plenary session, the Uzbek mission highlighted current trade and investment issues in Uzbekistan and the potential for developing bilateral trade in diverse sectors such as:
Oil and Gas
Chemicals
Mining
Electronics
Pharmaceuticals
Food
Construction
The Uzbek side also informed representatives from around 70 British companies about opportunities created for foreign investors to implement high-tech projects in the free economic zones in the cities of Navoi, Angren and Jizzakh.
Participants discussed specific projects in the field of education and science, such as the development of the Centre for High Technologies in Tashkent with support of a group of experts from the University of Cambridge. The possibilities for co-operation with London Metropolitan University, Magna Carta College, Oxford, and TVET UK were also discussed.
Receptions
The Uzbek and UK delegations had the chance to build further contacts at receptions hosted by the Rt Hon Peter Lilley MP, UBTIC Co-Chair for the British side, and the Uzbek Embassy in London.
Bilateral meetings
On 21-22 November Minister Ganiev held bilateral meetings with:
The Rt Hon Baroness Warsi, Senior Minister of State at the Foreign and Commonwealth Office
Alderman Fiona Woolf, the Lord Mayor of London
UK Trade and Investment officials
British Chamber of Commerce officials
Chief executives of British companies.
Background
UBTIC was established under a bilateral agreement in 1994. It comes under the umbrella of the British Government's overseas trade organization, UK Trade & Investment (UKTI). UBTIC is a government-sponsored trade promotion body, which supports and assists UK businesses currently operating in Uzbekistan, or wishing to invest in the country.
UBTIC session is held annually, alternatively in Tashkent and London. Currently, the UBTIC Co-Chairs are: the Rt Hon Peter Lilley MP for the British side and H. E. Mr. Elyor Ganiev, Minister for Foreign Economic Relations, Investments and Trade of Uzbekistan for the Uzbek side.
Contacts
Contact the British Embassy in Tashkent for further information.
Published 26 November 2013