US/UK military investigation into the death of Linda Norgrove released
Foreign Secretary William Hague updated Parliament on the outcome of the investigation into the death of British aid worker Linda Norgrove.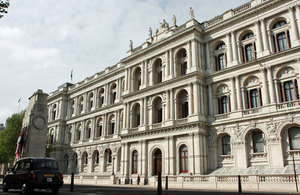 In a written statement to Parliament the Foreign Secretary said:
In my statement of 2 December 2010, I informed the House of the outcome of the US/UK military investigation into the death of the British aid worker, Linda Norgrove, who was taken hostage by insurgents in Afghanistan on 26 September 2010 and who died during a US-led rescue operation on the night of 8 October 2010. I reminded the House that Her Majesty's Coroner for Wiltshire and Swindon was legally responsible for determining the cause of death and that my statement could not in any way prejudice the course of his inquiries.
HM Coroner completed his Inquest on 15 February 2011and has recorded a narrative verdict. The full redacted US/UK military investigation report was published on 9 March 2011.
I am grateful to the US/UK investigation team for the thoroughness of their investigation. It is our longstanding policy not to comment on the tactics of British or our allies' Special Forces but I am confident that the appropriate tactical lessons have been shared and learnt. I pay tribute to the courage of the US forces who risked their own lives to try and rescue Linda Norgrove.
The Inquest has confirmed the tragic circumstances of Linda Norgrove's death. Ms Norgrove's parents have shown great dignity and strength throughout their ordeal. They have set up the Linda Norgrove Foundation to continue their daughter's desire to help bring prosperity and security to the Afghan people as their country is rebuilt. Linda Norgrove's work will continue to be an inspiration.
Published 14 March 2011