US Marines honour paratrooper for actions in Afghanistan
A paratrooper has received an American military honour for 'his decision, actions and calm leadership in the face of chaos' while serving alongside US Marines in Afghanistan.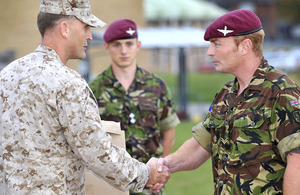 Lance Corporal Stephen Lewis, from 2nd Battalion The Parachute Regiment, was presented with the (US) Navy and Marine Corps Achievement Medal during a ceremony at Colchester's Merville Barracks yesterday, Monday 31 October 2011.
LCpl Lewis, aged 33, was recognised for his actions during a joint patrol with US Marines on 28 March 2011, which was sent out to investigate suspicious activity at a compound in the Nahr-e Saraj (South) area of Helmand province.
An improvised explosive device (IED) detonated and injured five of the ten troops, including the patrol commander.
LCpl Lewis took control of the situation, providing first aid for the casualties and organising their evacuation by helicopter, while at the same time ensuring the patrol was protected against further attack.
The citation reads:
LCpl Lewis' initiative, perseverance and total dedication to duty reflected credit upon himself and 2nd Battalion The Parachute Regiment and were in keeping with the highest traditions of the United States Marine Corps.
LCpl Lewis, from Gateshead, said:
I'm very proud to receive this medal and see it as recognition of all that we did together with the Marines in Helmand.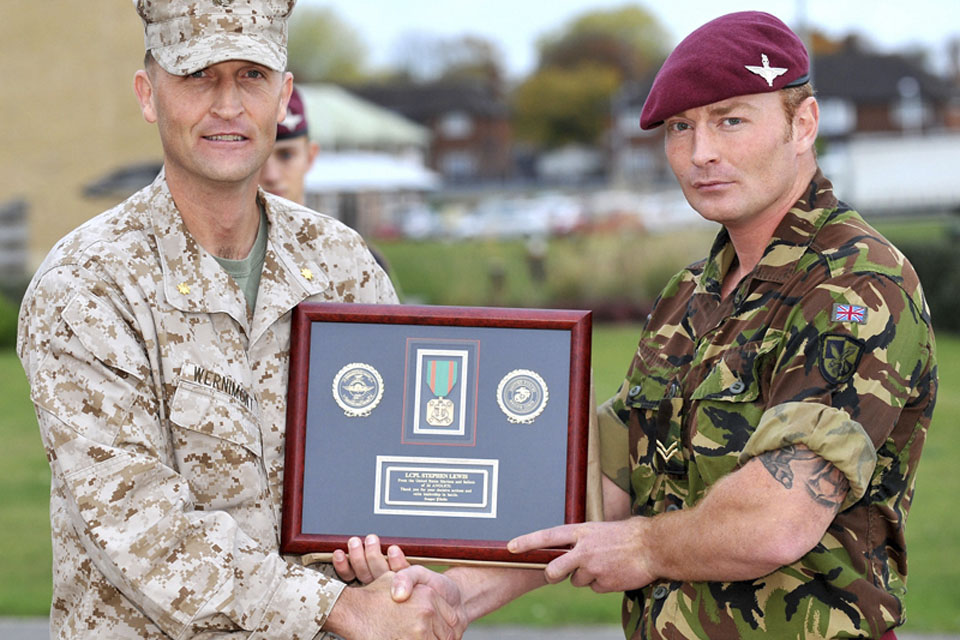 "When the IED exploded I just did what was needed without thinking. We train very hard so we know what to do in these situations and I just did my job, as did others out on the ground that day.
It was very rewarding to be working alongside the Marines. They are a very professional outfit and it was interesting to see how troops from a different country operate.
Major Timothy Wernimont, from the US Marines' 2nd Air Naval Gunfire Liaison Company, said:
This medal is given to our Marines when they have done something extraordinary or above and beyond expectation. It is without question that LCpl Lewis has met these criteria.
It is a great honour for me to present this medal to LCpl Lewis and honour his achievements, which helped save the lives of four British soldiers and one of the Marines from my unit.
LCpl Lewis received a Mention in Despatches in 2008 after pushing forward to protect injured colleagues following an insurgent ambush in Afghanistan.
The (US) Navy and Marine Corps Achievement Medal is awarded to military personnel who, while serving in any capacity with the United States Navy or United States Marine Corps, display meritorious service or achievement in either combat or non-combat based on sustained performance or specific achievement of a superlative nature.
Published 1 November 2011