US Central Command hosts Liam Fox
UK Secretary of State for Defence, Dr Liam Fox, has visited the heart of the United States' military command tackling the war in Afghanistan.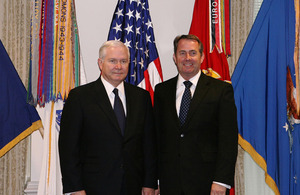 US Central Command (CENTCOM) is the US military body with responsibility for a broad area of the Middle East and central Asia, including Afghanistan, Iran and Iraq.
Dr Fox, the first UK Defence Secretary to visit in five years, travelled from Washington DC to CENTCOM in Tampa, Florida, to discuss with American military leaders how the coalition operation in Afghanistan could develop in the future and other matters of mutual interest.
Dr Fox said:
Today's meetings have been extremely productive and informative. Visiting these locations has proved to be invaluable and I welcomed the opportunity to be given an insight into the vital work done every day at CENTCOM.
This was a unique opportunity to see how closely the US and UK work on the planning level and what we are doing together to ensure success in our mission and to reduce the risk to our forces.
Dr Fox was greeted by Lieutenant General John Allen, the Deputy Commander of CENTCOM, before he met military officials for a round-table meeting on Afghanistan.
There are 25 British personnel (representing each of the Armed Services) currently working and fully integrated into the CENTCOM structure as part of the coalition effort in Afghanistan. Dr Fox met a number of them during his visit to the HQ, including Air Vice-Marshal Graham Stacey, the Senior British Military Advisor to US CENTCOM.
Addressing the British personnel before he left to visit the US Special Operations Command (SOCOM), also in Tampa, Dr Fox said:
As I said in my speech to the Heritage Foundation yesterday, our natural impatience to see troops in Afghanistan come home should be seen in the context of the needs of national security.
The Prime Minister also made it clear to the British Parliament on Monday that the presence of large-scale ISAF forces cannot be indefinite. We want the Afghans to assume increasing responsibility for security within the next five years. We need, therefore, to get the job done.
Published 1 July 2010