US and Royal Marines strengthen ties during Sangin handover
British and American Marines have built on a relationship that goes back many decades to ensure that the handover of control of Sangin goes smoothly and the new American forces can fully capitalise on the gains achieved by British forces.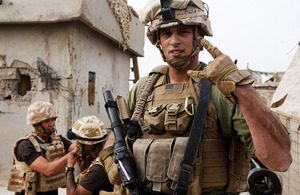 The handover of Sangin, which officially took place on 20 September 2010, is the last move in the current reconfiguration of ISAF forces in southern Afghanistan to ensure a coherent and equitable distribution of resources in the province.
However, the change of command did not happen without preparation; British and US forces have been working side by side in the district for many weeks to share as much local knowledge as possible.
Two of those who have been working together are Marine Michael Salt of 40 Commando Royal Marines (40 Cdo RM) and Corporal Nicholas Swan of 3rd Battalion 2nd Marines of the US Marine Corps.
Both men have been working with the Afghan National Police (ANP) in Sangin and Corporal Swan brings similar experience of working with the ANP in the provinces of Delaram and Golistan.
However, Marine Salt says the recent weeks of joint patrols have really benefited the handover.
Marine Salt explained:
Well obviously the Americans don't know the area so we have been going out on joint patrols together to show them the police checkpoints and show them the ground so they get to know the personalities in each of the different checkpoints.
There will be [Afghan] police in these patrols as well, as obviously the Americans will have to patrol with them too.
So we will go out with them and do vehicle checkpoints or go to the checkpoints in Sangin where the police work and check that everything is all right there.
They [the US Marines] made it very easy for us really. It is just a case of getting out there and showing them everything and making sure they know the faces because also we have to do sentry on one of the gates here together.
It is a busy gate with lots of people coming in and out so they need to know the locals so they know who can come in and who not to let in.
For Corporal Swan, working with his British counterparts has been 'very good' and he now feels confident in taking the work forward:
They are very professional, they had everything set up for us pretty much," Corporal Swan said.
The structure was here, it was just a matter of turning it over and making sure we understand it; understanding the terrain, because it is very green but very urban so it is hard to learn where the enemy can be and stuff like that.
But they have taught us everything they know so far and we are doing pretty good.
British forces have been in Sangin since 2006 but are now handing over command of the town to American forces in order to better align forces to populations and concentrate the British effort in central Helmand.
While the area still remains hotly contested by the insurgents, since moving into the town British forces have overseen many improvements in day-to-day life in Sangin.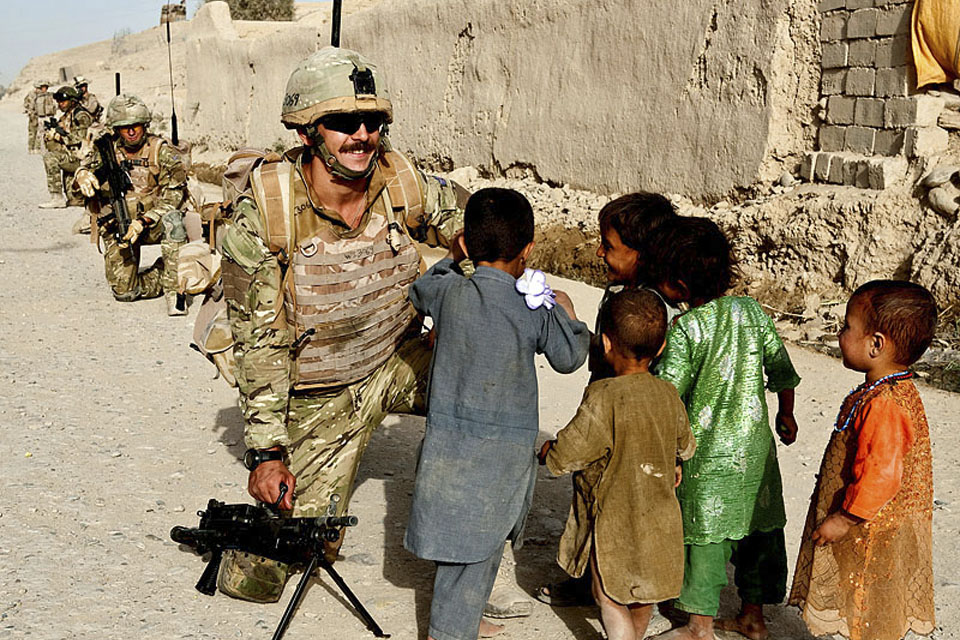 Over 850 shops are now trading in Sangin's bazaar, twice as many as summer last year, and the improvement of Route 611 from central Helmand through Sangin to Kajaki is increasing access to agricultural land and markets for local people.
In addition, more and more trained Afghan police have been introduced into the region, and trained Afghan medics at the new health clinic, which opened in October 2009, treat 300 patients per week - men, women and children from Sangin and its surrounding areas.
Speaking of the progress made, Major Ed Moorhouse, Officer Commanding Charlie Company, 40 Cdo RM, said:
I hope and know, talking to my opposite number who is taking over this part of Sangin, is that he will pick up where we left off and continue.
It is about improving security and about bringing about an enhanced capability of the ANA [Afghan National Army] and we both want that as a duplicate end state to get to.
Handing over to the Americans makes a lot of sense, most of the British effort is to the south and it is right from a purely command and control and military perspective that the British own a certain sector and the Americans own another. There are many campaigns in which that has happened and this is merely a change of lines on a map to make sure that is more effectively done.
British troops formally based in Sangin will now redeploy to central Helmand, in support of ISAF's main effort, where they will continue to lead the fight against the insurgency and assist in building a stable and secure Afghanistan that can stand on its own two feet.
Published 22 September 2010