World news story
Uruguayan MPs visited the Falkland Islands
Uruguayan parliamentarians visited the Falkland Islands for a week, invited by the Legislative Assembly.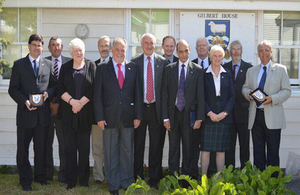 Uruguayan Members of Parliament Jaime Trobo and Daniel Mañana, from Partido Nacional, Fitzgerald Cantero, from Partido Colorado, and Daniel Radío, from Partido Independiente, visited the Falkland Islands 8-15 February, invited by the Falklands Legislative Assembly.
The Uruguayan politicians had a busy programme including meetings with members of the Assembly, businessmen and the Chamber of Commerce, Department of Agriculture and Fisheries, Energy and Tourism. They also met Uruguayans living in the Islands and residents who attended school in Montevideo or were treated at the British Hospital. They visited the countryside and surrounding smaller islands, which helped them to get a thorough understanding of life in the Islands and of the opportunities that could benefit both Uruguay and the Faklands.
Diputado Jaime Trobo said to several media outlets that the parliamentarians will work hard on their return to Montevideo, so that both public and private sectors will be able to take advantage of those commercial opportunities.
After the MPs stated that Uruguayan workforce are needed in the Falklands, the Embassy got calls from people looking for job opportunities in the Islands. We suggest those interested contact the Falkland Islands Government through by e-mail: info@sec.gov.fk
Published 18 February 2014