World news story
Uruguayan Chevening Scholar 2013-14 shares her experience
Laura Silva has just returned to Uruguay after succesfully completing her Master's degree in Oxford.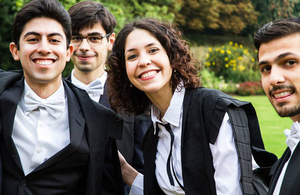 By Laura Silva
Around this time last year I received an acceptance letter by Oxford University to study Diplomacy. I could not express my happiness in words. I had the possibility to study in the United Kingdom, one of the meccas of diplomacy and even more, I was going to do it in a world class University like Oxford.
The experience was overwhelming from the start: a fairy tale city, where writers like Tolkien and Lewis Carroll found their inspiration, a cosmopolitan place where people from all over the world share their experience and knowledge and teachers whose wisdom and lessons I will never forget.
I have to admit the amount of reading and studying will always be in my memory too. Writing essays every week, assisting to class, preparing myself for seminars about a wide variety of subjects, presenting Uruguay in the most interesting way possible and meeting professionals during our visits through the UK and Europe was intense and demanding but it was worth it.
At first, the hardest part seemed the coordination of all these academic activities with the incredible number of social events Chevening and Oxford have to offer. Chevening Secretariat really works hard to create a lasting network between us Cheveners. It goes beyond professional contacts and becomes a constitutive part of our personal life.
The college, in my case beautiful Trinity, also contributed to the crowded agenda of bops, dinners and balls. Living in a building of more than 500 years generates a unique atmosphere, where every day seems a film location.
Finally, my classmates. I would rather say my multicultural family from 16 different countries. They were my inspiration and source of laughter every day and I am sure we will meet again, hopefully in Oxford.
I congratulate this year Uruguayan Cheveners and invite other students to apply in the future. The opportunity will certainly be one of the best experiences of your life.
Published 14 July 2014