World news story
Uruguayan Chevening Alumni was guest speaker at event for Graduates of British Universities
Economist Pablo Rosselli gave a presentation about the Uruguayan economy at the Ambassador's Residence.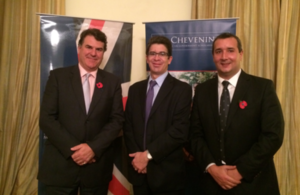 Pablo Rosselli, Chevening alumni and financial consultancy partner at Deloitte, talked about Uruguay's economic outlook. The presentation, organised by the Association of Graduates of British Universities (GBUA), is the second in a series of events supported by the FCO that aims to strengthen the scholars' network.
The first event, held in July 2015, was a lecture by Dr. Jorge Grünberg, rector of Universidad ORT Uruguay and PhD from Oxford University.
Rosselli, who holds a Masters degree from the London School of Economics (LSE), spoke about the Uruguayan economy today, economic policy objectives and the challenges ahead.
During the event, Ambassador Ben Lyster-Binns welcomed two of the three Chevening scholars who have just finished their Masters degrees in the UK, as well as the four professionals who received Tullow scholarships to study Masters related to the environment, energy and hydrocarbons in 2014-2015.
"I hope you all had a great experience and that from now on you actively join GBUA and become part of this great community that seeks to keep you in touch with the UK and with those who have shared a similar experience: living and studying in Great Britain", the Ambassador said.
Less than a week before the deadline for applications to the 2016-2017 Chevening scholarships, he also thanked the President and the Board of GBUA for the support they have given to applicants in the process. "This group will continue to grow, now more than ever with 30 Chevening scholars who are studying in the UK and with the next generation who are applying right now", he said.
Published 3 November 2015
Last updated 4 November 2015
+ show all updates
Video added
Video Added
Added translation