Urgent action on climate change: Caroline Spelman issues 'wake-up call'
The first national assessment of how well prepared the UK is for climate change was published today (16 Sept) by the Adaptation Sub-Committee (ASC).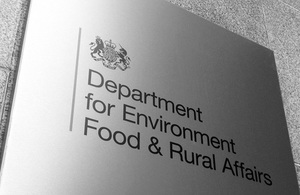 Speaking to the ASC at the House of Commons, Caroline Spelman emphasised that people must start preparing now for the 'unavoidable' impacts of climate change, to protect our economy, infrastructure and way of life. 
She said: "Today's report provides a wake- up call. It recognises that there is no part of our society which is immune from the effects of climate change. Which means that every part of our society must think about its resilience.
 "This Government is pushing ahead with measures to ensure that climate change adaptation becomes an ingrained part of how we manage our natural environment - particularly in critical areas such as water efficiency, biodiversity and food production.
"Adapting to climate change may also offer some major opportunities. The transition to a low carbon, well-adapted global economy could create hundreds of thousands of sustainable green jobs. But we must - all of us - take steps now to recognise the problem, analyse the risk and plan ahead."
The ASC's report concludes that, with the impacts of climate change already being felt in the UK, people must start preparing now. It recognises that progress has been made by Government in raising awareness, and identified five priority areas where more action needs to be taken - land use, planning, infrastructure, buildings, natural resources and emergency planning.
In response to the report, Defra has prepared a Strategic Statement, exploring how work will be taken forward in these areas.
Earlier in the week (13 Sept) Environment Minister Lord Henley welcomed the CBI's report, '_Whatever the weather - Managing the risks from a changing climate' _and stressed the need for businesses to rise to both the threats and opportunities of a changing climate in order to build a globally competitive, green and thriving economy for the UK. 
The Adaptation Sub-Committee (ASC) is a sub-committee of the Committee on Climate Change (CCC), established under the Climate Change Act 2008. The ASC is an independent statutory body that provides advice to Government to ensure that their programme for adaptation enables the UK to prepare effectively for the impacts of climate change.
Published 16 September 2010